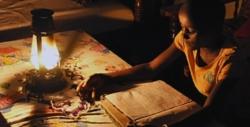 Most of the deaths and injury victims from kerosene are children
(PRWEB) February 18, 2013
Like most villages in Central America, La Gracia was dependent upon dangerous and toxic kerosene lamps which in the past have been the cause of countless injuries. This is no longer the case in La Gracia.
Thanks to the Generosity of the New Ulm Lions Club and other private donations the people of La Gracia all have safe solar powered lights for their homes. They are breathing better, able to read much easier and lengthening their work day.
In addition every family in La Gracia is saving money which will go to pay the tuition for their children's education and in general improve the quality of their lives.
According to the World Health Organization approximately 2.5 million people die each year as a result of burning kerosene in their homes. Most from respiratory illnesses. Those most vulnerable are under one year old. Most of the burn victims are under 14.
The New Ulm Lions and the Grid Earth Project are putting a stop to this needless death and suffering in La Gracia.