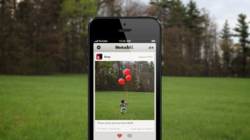 As parents, we're all just figuring this out; where to save, when to share and when not to share.
Burlington, Vermont (PRWEB) February 20, 2013
Designer-led startup Notabli (pronounced: notably) recently announced the release of their flagship iPhone app. Notabli solves two problems facing today's parents: how to securely save and consolidate moments from their kids' lives, and how to selectively share them with the people who care most – without cluttering their social streams.
"We're the first generation of parents raising our kids in the era of social media and cloud storage," says Notabli co-founder and CEO Jackson Latka. "As parents, we're all just figuring this out; where to save, when to share and when not to share."
Just the Right Amount of Privacy
Some kid moments are best kept between family and close friends, and others deserve to be shared with our broader social networks. Notabli allows parents to easily control the privacy level and reach of each moment.
Notabli is currently featured by Apple in the App Store, as thousands of families have already made Notabli a key part of their daily digital life. "It is the one app I use that is guaranteed to bring a smile to my face every time I open it," says co-founder Jory Raphael.
Built in Vermont
Notabli was designed by co-founders Jackson Latka and Jory Raphael, with lead developers Darren Clarke and Michael Hellein. Attracted to the quality of life in Vermont, the founders based Notabli in downtown Burlington, where the team is active in fostering the startup community.
Highlights

Capture the story of your kids, and keep up with the kids you care about most.
Remember important memories and share them with family and close friends.
Keep moments private, or share individual moments to Facebook & Twitter.
Choose from five moment types: videos, photos, quotes, audio, and stories.
Full-resolution, redundant storage of original content.
Parents own the content they post and can download it at any time.
Tweetable
New app @Notabli solves two problems facing parents: how to save their kids' moments & how to selectively/safely share them online
Notabli is available for iPhone as a free download from the App Store, with more platforms coming soon.
iTunes App Link: https://itun.es/us/ga_MI.i
Press Information and Images: http://notabli.com/press
Website: http://notabli.com
Twitter: @notabli
Facebook : facebook.com/notabli