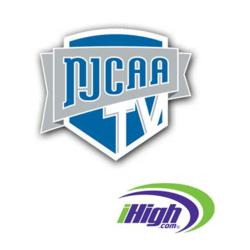 Colorado Springs, Colo. (PRWEB) February 19, 2013
NJCAA Sports Properties is proud to announce that NJCAA TV, powered by iHigh.com, will provide live video coverage of eight NJCAA championship tournaments taking place throughout February and March. Since its creation in 2009, NJCAA TV has been the exclusive home for live broadcasts of NJCAA championship events.
A new and improved NJCAA TV, http://www.njcaatv.ihigh.com, debuted fall 2012 when the organization strengthened its relationship with iHigh.com, which now includes a corporate sponsorship and multimedia rights agreement. As a result, NJCAA Sports Properties was formed to manage the association's corporate sponsorships, national advertising (print and digital), championship marketing, and radio/television rights in addition to NJCAA TV.
Live coverage of winter championships on NJCAA TV begins Feb. 23rd with the national finals of the 2013 NJCAA Wrestling Championship in Des Moines, Iowa. In addition, the semifinals and finals of the Ice Hockey Championship in Rochester, N.Y., will be showcased live Feb. 23rd and 24th.
Basketball fans will be in hoops heaven as all games from the NJCAA's six competitive national tournaments will highlight NJCAA TV, beginning with the Division III ranks on March 14th. A complete broadcast schedule is below.
Broadcasts of each event are being made possible through the cooperation of each tournament host and their volunteer staff.
NJCAA TV moved to the iHigh.com platform in August 2011 and drew over 650,000 broadcast views and 370,000 unique visitors for the 2011-12 academic year. Since August of 2012, NJCAA TV has eclipsed 630,000 unique visitors.
Information regarding advertising inventory for NJCAA TV can be obtained by contacting NJCAA Sports Properties General Manager Bret Krift at 859.514.3877 or bret.krift@ihigh.com.
NJCAA TV Winter Championship Broadcast Schedule
NJCAA Wrestling Championship (Finals)
Feb. 23; Jacobsen Exhibition Center in Des Moines, Iowa
NJCAA Ice Hockey Championship
Feb. 23-24; The Sports Centre, Rochester, N.Y.
NJCAA Division III Men's Basketball Championship
March 14-16; Paul Gerry Fieldhouse, Loch Sheldrake, N.Y.
Live video of all games on NJCAA TV.
NJCAA Division III Women's Basketball Championship
March 14-16; UCR Regional Sports Center, Rochester, Minn.
NJCAA Division II Men's Basketball Championship
March 19-23; Mary Miller Gym, Danville, Ill.
NJCAA Division II Women's Basketball Championship
March 19-23; ICC- Lorene M. Ramsey Gymnasium, East Peoria, Ill.
NJCAA Division I Women's Basketball Championship
March 18-23; Bicentennial Center, Salina, Kan.
NJCAA Division I Men's Basketball Championship
March 18-23; The Sports Arena, Hutchinson, Kan.
About iHigh.com®:
iHigh.com®, Inc. is a Global Youth Network providing free Web services to schools, students and other youth organizations around the world. iHigh.com® provides free Web tools that allow sports teams and other groups to post live streaming video, stories, photos, video clips, schedules and other information to a page customized with a group's colors and logos. For more information, go to http://www.iHigh.com.
About the NJCAA
Since 1938 the National Junior College Athletic Association (NJCAA) has been the governing body of two-year college athletics, offering athletic and academic opportunities to college students. Now entering its 75th anniversary, the NJCAA is the second largest national intercollegiate athletic organization in the United States with over 500 member schools in 43 states. Each year 60,000 student-athletes compete in one of 28 different sports and the organization sponsors 48 national championship events and nine football bowl games. NJCAA Headquarters has been located in Colorado Springs, Colo., since 1985. For more information visit http://www.njcaa.org.