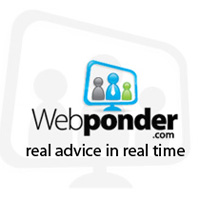 The first online video lesson trail, between an educator in Texas and children in Liberia, was a success.
Miami, Florida (PRWEB) February 21, 2013
Webponder.com, an online expert advice website that connects people in search of advice, such as legal advice, mental health counseling, or technology guidance, with experts and professionals through live video consultations, has begun exploring the ability to provide educational opportunities through live online video lessons to children in developing nations.
Webponder's first online video lesson, between an educator in Texas and children in a small village in Liberia, a country on the west coast of Africa, was a success. The Liberian children, ages 12-14 years old, found the world geography online video lesson fun and exciting, and can't wait to continue with the program.
The concept of the online video lesson to children abroad was brought to Steve Thompson, Managing Director of Webponder.com, from Seth Cushing with City Church Downtown in San Antonio. They then connected with Rufus Gyamfi, a college student in Liberia majoring in Information Technology, who Seth had met through City Church Downtown's outreach programs in Liberia.
The educational setting for children in this small Liberian village usually consist of children of all ages attending class in one classroom, with minimal resources, materials, or teachers with an educational degree. By providing access to United States teachers with educational experience, not only can the children study more appropriate lessons to their age group, but adults in Liberia can also experience how lessons in the U.S. are taught.
Webponder's goal is to be able to set up online video lessons on a regular basis between U.S. educators and children in many different countries that do not have access to a structured educational system. Webponder is now looking for educators in the U.S. who are willing to donate 1-3 hours per week to provide an online video lesson through Webponder to children of all ages. The lessons will be to groups of 4-6 children of similar age, and in a variety of subject areas. As an incentive for the educators to volunteer, Webponder is offering free Expert Profiles on Webponder.com. Educators can then use their Webponder profiles to provide one on one tutoring services at the rate to anyone they wish, at the rate they normally would charge.
For the students, all that is needed is access to the internet, a webcam, and adult supervision to setup and attend the video lesson with the children.
To help grow their online video lesson program, in addition to the need for U.S. educators to teach, Webponder.com is also looking for individuals, organizations, and charities with connections abroad to children in need of educational services, in order to help introduce and organize the online video lessons. Any person or organization who would like to offer assistance should contact Steve Thompson at s.thompson(at)webponder(dot)com or (305) 373-7775.