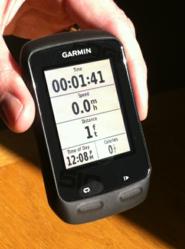 The Garmin Edge 510 is to bike computers what the iPhone is to smartphone's, the absolute best
Bozeman, MT (PRWEB) February 19, 2013
The new Garmin Edge 510 bike computer units arrived and started shipping today at Heart Rate Watch Company, so our testers were super excited and fired one up to test a few things that had been critiques in early tester reviews.
Bright Light on Display - No Problem
"The first thing we were interested in was the poor visibility in bright light criticism and fortunately we had a bluebird Montana day at over a mile high here in Bozeman", says Rusty Squire, President of the Heart Rate Watch Company. "We turned the contrast all the way up and put it in the brightest noon day sun we could find and it passed with flying colors, in fact see the photo".
In reality, riders just need to make certain that they don't place any screen based device at a 90 degree perpendicular to the sun by adjusting the mount according to Squire.
Garmin Edge Out Front Bike Mount - Rock Solid
"We read some critiques that the Garmin Edge out front bike mount was not solid, yet we found it to be rock solid and much better than the rubber band stem mount", says Squire. He adds, "The more forward visibility and the fact that you can push on it hard are real improvements". Some members of the Team Rockford, which is co-sponsored by the Heart Rate Watch Company, have been testing these bike mounts for several months and all seem quite satisfied with the set up.
More Features, More Metrics
The fact is that the Garmin Edge 500 was used by more professional cyclists than any other bike computer and, the Edge 510, with its long list of improvements won't be handing that baton off to any other product any time soon according to Squire. "The quality of the screen display,the data and the number of metrics you can deliver has not been approached by any other bike computer model we have ever tested", says Squire.
"The Garmin Edge 510 is to bike computers what the iPhone is to smartphone's, the absolute best", says Squire.