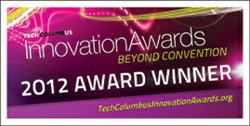 Fabrisonic applies cutting-edge UAM technology to equipment development and customized parts fabrication.
Columbus, Ohio (PRWEB) February 20, 2013
Fabrisonic LLC is winner of the 2012 TechColumbus Innovation Award for "Outstanding Startup Business of the Year." The prize recognizes high-performing businesses established in central Ohio within the last five years. Fabrisonic was selected from a pool of 29 cutting-edge companies that have demonstrated the potential for continued success and growth.
Fabrisonic grew out of a collaboration between Columbus-based technology company EWI and Solidica Inc. of Ann Arbor, Michigan. Funded in part by a 2008 Ohio Third Frontier Wright Project grant, EWI developed a revolutionary technology that incorporated high-powered ultrasonics into 3D printing to produce intricate components that could not be made using traditional subtractive techniques. In 2011, EWI and Solidica pooled intellectual property and other assets to form a new entity, Fabrisonic. Shortly thereafter, Fabrisonic designed and built the first SonicLayerTM machine capable of applying the new ultrasonic additive manufacturing technology (UAM) to form specialized, solid-state parts from dissimilar materials.
Today Fabrisonic offers UAM production services that are customized for the needs of individual manufacturers. In two short years, the demand for Fabrisonic's services has grown rapidly, and its patented technology is being adopted and employed by research institutions and industrial fabricators alike.
Fabrisonic Board Member and EWI CFO Jim Tighe accepted the award at the TechColumbus ceremony on February 7th. In his speech, he thanked several organizations and people who contributed to the company's successful launch, giving special mention to Fabrisonic CEO Mark Norfolk. "Mark has done an amazing job taking the Fabrisonic ball and running with it. The company has a very bright future thanks to his tremendous leadership." Mr. Norfolk later remarked, "We are honored to be named as the winner of this prestigious award considering all of the great technology companies that were nominated."
About Fabrisonic
Fabrisonic LLC was founded in 2011 as a joint venture between EWI and Solidica, Inc.The company applies cutting-edge UAM technology to equipment development and customized parts fabrication to serve the specialized needs of its clients in both research facilities and production environments. Fabrisonic is based in Columbus, OH. For more information, contact Mark Norfolk at mnorfolk(at)fabrisonic(dot)com or 614.688.5223.