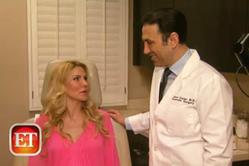 Los Angeles, California (PRWEB) February 18, 2013
According to a recent E! Entertainment Television online report, Real Housewife Brandi Glanville revealed that she had charged her ex-husband's credit card $12,000 for vaginal rejuvenation surgery. (Go to: goo.gl/Om9QX). While vaginal rejuvenation surgery is not a new procedure, it remains one very few women openly admit to having had done. And only a tiny percentage of recipients are willing to discuss it as publicly as Brandi Glanville.
"I'm grateful that Brandi has the courage to be open about her vaginal rejuvenation," says Dr. Simon Ourian, Epione's Medical Director. "She's helping to build awareness for a procedure that, for the right patient, may offer tremendous benefit."
Vaginal rejuvenation surgery helps to reconstruct and firm the vaginal muscles with the ultimate goal of increasing sexual pleasure for both the woman and her partner. This surgery is most common among the 40 and older crowd, but women of all ages are discovering this procedure and its benefits.
Vaginal rejuvenation is often included in "Mommy Makeover" treatment packages. The Mommy Makeover, which may include abdominal liposuction and breast augmentation, seeks to restore the appearance of the body to its pre-pregnancy state. The Mommy Makeover may reduce or eliminate the appearance of stretch marks, correct sagging breasts, and eliminate the pouch that can sometimes develop after pregnancy.
"We offer several different Mommy Makeover packages," says Dr. Ourian. "We customize a treatment plan for each patient."
Dr. Ourian has been a pioneer in laser technology and non-invasive aesthetic procedures including Restylane, Juvéderm, Radiesse and Sculptra. These treatments are used for the correction or reversal of a variety of conditions such as acne, acne scars, skin discoloration, wrinkles, stretch marks, varicose veins, cellulite, and others. More information about vaginal rejuvenation can be found on their website.