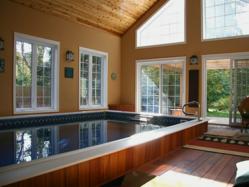 I'm proud of what we've built at Endless Pools.
Philadelphia, PA (PRWEB) February 20, 2013
Endless Pools crossed a pair of major thresholds in 2013.
The company, founded in 1988, celebrated its 25th Anniversary and achieved another milestone by selling its 20,000th pool.
"We are very fortunate to have an excellent team that has made our consistent growth possible," said founder and CEO, James Murdock.
Murdock built the first Endless Pool on the pool deck at Columbia University and hasn't stopped innovating since, building custom pools and spas, while shipping to over 80 countries around the world.
Murdock's goal was to build a treadmill for swimmers—a compact pool that would simulate open-water swimming in a small space.
Today, the company features a full line of distinct products that can be customized to meet the needs of the consumer.
"I'm proud of what we've built at Endless Pools, but we are even more excited for the future," said Murdock.
Offering indoor or outdoor installation, from the Original Endless Pool to the Swim Spa, the company now has a custom product to meet almost any need.
For people wishing to swim year-round, an Endless Pool product provides the ideal choice. Experienced swimmers or those learning how to swim can each benefit from the adjustable swim current.
The Endless Pool Fastlane offers customers the opportunity to add the company's revolutionary swim current to their existing backyard pool.
Their latest product, the 10' Exercise Spa, adds depth to the Endless Pools Spa line, with a spa that combines the best in aquatic therapy, water exercise and relaxation.
For 25 years, customers have worked with the Endless Pools design team to choose the ideal product for their home. Offering comfort, convenience, ease of use and daily fitness in a personal pool, Endless Pools offers the perfect home exercise and relaxation choice.
ABOUT ENDLESS POOLS:
Endless Pools, established in 1988, has served over 20,000 customers in over 80 countries, and offers compact, customizable pools for swimming, water exercise, aquatic therapy, family fun and relaxation. With a series of six innovative products and an adjustable, revolutionary swim current, the product can be tailored for indoor or outdoor installation. Rigorously tested for safety, low-maintenance and environmentally friendly, Endless Pools has a product to meet virtually any need.
For more information, visit http://www.endlesspools.com