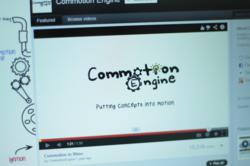 100 million Americans watch online video
(PRWEB) February 19, 2013
It is a known fact that modern consumers often feel mentally exhausted from the overload of marketing emails, cold calls and ads that seem to appear everywhere. Websites give a flood of information, often leaving visitors bored and disinterested. A company's window of opportunity to get their attention is small – so small that words may not be the smartest way to catch their eye. Video marketing firm Commotion Engine says there is a more effective way to communicate with consumers on the internet.
Research shows that more than 100 million Americans watch online video content every day. This is a dramatic increase of 43% over last year, and the growth trend is likely to continue as more and more people choose to find their entertainment on the web. Recent Forrester studies prove that marketing videos are 50 times more likely to appear on the first page of Google results, than a comparable text page , and those who view online video ads, are 76% more likely to purchase the product advertised. Commotion Engine clearly points out video marketing is making a huge impact. In an age where the internet dominates, businesses cannot afford to ignore the potential of creative and entertaining online videos.
How can a business take things to the next level with a video marketing strategy? Commotion Engine offers the following three ideas:
1) Social media - Whether in pursuit of business or pleasure, a huge percentage of the world's population spends time on social media sites. As a result, it has become an invaluable tool for businesses to interact with their target customers, and creative video content is a powerful way to get attention. According to ImaginationMedia, an astounding 66% of Youtube and 57% of Facebook users have watched a video ad inside of these social networks. Countless numbers of companies have found tremendous success by using social media to publicize their business.
2) Go Mobile - While the number of smartphone users is increasing, so is the possibility of a mobile video explosion. It is estimated that there will be over 129.7 million mobile internet users in the US alone this year; that's 40.6% of the population! Marketers need to base their strategies off of the direction that pop-culture is going in. Advertising specifically targeted towards mobile users will be one of the best ways they can arrive at mind-blowing results.
3) Websites - Ever heard of the phrase "a pictures worth a thousand words?" According to Forester Research, a one-minute video is worth 1.8 million . People simply don't like to read on websites anymore, but many people will click on a video that catches their attention. Videos are a powerful medium of communication that can convey important information in an entertaining and engaging way.
If a business is ready to launch their own video project they could spend years learning "the ropes" on their own by purchasing the book "Explainer Videos for Dummies"(if there is such a book) or they could try something easier – have Commotion Engine do it for them. The Commotion Engine is a video marketing firm dedicated to creating clever animations that are designed to get attention and communicate ideas in a fun way. It seeks to make every project unique and fun for audiences to watch so that they are entertained and inspired. As a company, Commotion Engine holds to the wisdom of the words of Orson Welles who said, "Create your own visual style... let it be unique for yourself and identifiable for others."