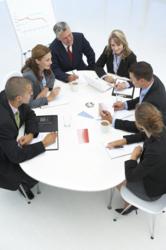 Eden Prairie, MN (PRWEB) February 20, 2013
When penciling in another meeting on your calendar, is it usually accompanied with a groan and a feeling of dread? Is it because you hate meetings? Or do you hate the fact that so many meetings seem purposeless and poorly run?
Rich Meiss, senior training consultant at The Bob Pike Group, offers a few tips to help improve the meetings that you facilitate.
"First, only invite those who really need to be at the meeting. Set the stage for this by discussing the types of meetings needed and who should be at each," Meiss began. "Then let people know that all those carbon copied on a meeting notice have the option of attending or not, but are expected to read the minutes and be 'up-to-speed' on information shared.
"Second, always start the meeting with a positive tone and set the purpose and agenda for the meeting early on. Double check that participants all agree with this purpose and are willing to keep the meeting within the bounds of this agenda.
"Finally, avoid 'meeting creep.' This is the tendency for the meeting to start going off on tangents. Use a 'delay board' in the meeting where side topics are written and posted for attention in later meetings to keep things on track."
Meiss facilitates the Making Meetings Work workshop for The Bob Pike Group. "Making Meetings Work was originally done as a part of our conference agenda, and then we started having clients ask for in-house versions," Meiss explained. "The agenda grew to two days based on the needs clients wanted covered."
The workshop has historically been an in-house only workshop, but is now being opened up as a public.
For more information on this program, including details of the March 14-15, 2013 class in Phoenix, AZ, visit http://www.bobpikegroup.com/meetings or call 800-383-9210.
About The Bob Pike Group
The Bob Pike Group has provided train the trainer workshops and consulting services to individuals and corporations for more than 30 years. Bob Pike is the pioneer of the participant-centered training method and has a well-earned reputation as "the trainer's trainer." More than 125,000 people have gone through his Creative Training Techniques Boot Camp and more than 200,000 copies of his Creative Training Techniques® Handbook have been sold. There simply is no one in the training industry as well known and respected as Bob Pike. The Bob Pike Group trainers take those same methods and passion for learning and funnel them into interactive sessions in any training platform or mentoring format.