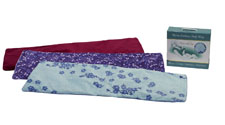 "modern medicine has proven that heat therapy actually does reduce pain and discomfort. "
Santa Cruz, Ca (PRWEB) February 21, 2013
DreamTime introduces their Warm Embrace Collection for pain relief. DreamTime's Warm Embrace products were designed to quickly soothe sore aching muscles with a nurturing moist heat. In addition, the microwavable body wraps also use calming herbal aromatherapy, which helps to promote both physical and emotional wellbeing.
Each product contains packets of grains and fragrant natural plant herbs: calming cinnamon, comforting clove and revitalizing eucalyptus, that can be microwaved for heat therapy or placed in the freezer for cold therapy. By applying DreamTime's aromatherapeutic microwavable Blanket, Body Wrap, Shoulder Wrap, Back Belt or Heart Pillow on the relevant sore body part, the moist heat helps stretch soft tissues, relaxing muscles, which promotes flexibility and decreases stiffness.
Moist heat therapy is believed to be more effective at warming tissues than dry heat. Why is moist heat better than dry? Because water transfers heat more quickly than air, it improves the expansion of the blood capillaries (vessels) to allow more blood flow. Expansion of the blood capillaries is the primary objective of heat therapy. When heat is applied to the skin, it actually reduces the sensation of pain. Heat stimulates thermo receptors, which block the body's pain transmitters from sending pain signals to the brain.
The therapeutic effects include increasing the extensibility of collagen tissues; decreasing joint stiffness; reducing pain; relieving muscle spasms; reducing inflammation and aids in the post acute phase of healing; and increasing blood flow. The increased blood flow to the affected area provides proteins, nutrients, and oxygen is sent to the damaged tissue for better healing.
DreamTime's moist heat penetrates deeply, warming the muscle, joints and soft tissue, right where it hurts—to relax, soothe and unlock tightness to the injured or sore area.
Practical and functional therapeutic products don't have to be ugly. DreamTime's healing products are known and respected for their attractiveness, functionality and quality. All Warm Embrace products have removable, washable cases, featuring a wide and wonderful array of quality textiles, rich and varied in color and texture, including Dupioni silks, brocades, velvets, fleece, linen and cotton prints. All are beautifully packaged to guarantee customer appeal. From sport injuries to stress and body pain, DreamTime has something to heal, nurture and soothe everyone.
DreamTime's Therapeutic Collection can be used HOT (via microwave) or COLD (via freezer):

Wrap up in DreamTime's "Best Seller!" Warm Embrace Body Wrap and get carried away to a world where pain relief and relaxation is the rule.
Contoured to wrap around the neck, Dreamtime's Calming Crescent Shoulder Wrap was thoughtfully created to ease stress and pain. Its soothing warm or cool touch melts muscle tension and stress while promoting a sense of well-being.
Living in cozy comfort is life at its best. DreamTime's microwavable Cozy Comfort Spa Blanket delivers delicious aromatic warmth and cuddly comfort.
Give the gift of pain relief, well-being and comfort to yourself or someone in need of a little heartfelt nurturing. DreamTime's Loving Hugs Heart Pillow is an object of both beauty and caring, symbolizing all that is good. It provides localized relief with either a warm or cool touch, it can also be used as an effective spot treatment for a host of discomforts. Whether it's a bad bump or bruise that needs a cooling touch, or an achy, sore muscle or tummy that needs a warming caress, the Loving Hugs Heart Pillow will nurture and care for all tender spots.
Take a journey to euphoria, where pain relief, relaxation and free movement await. DreamTime's Back in Motion Lumbar Wrap encourages tight, tense, stressed muscles to relax with a healing warmth or cooling touch. The Lumbar Wrap is designed to wrap around any body part, (back, neck, knees or head), and the adjustable Velcro belt holds grain packs snugly in place while allowing freedom of movement.
An "Oprah's Favorite Things!" DreamTime Pampered Soles Foot Cozys are the preferred choice of professionals, and can be heated or cooled for therapeutic as well as beauty benefits. Allow these extraordinary Foot Cozys to nestle feet in nurturing warmth, soothe away everyday aches and pain, help relieve arthritic pain, use with pedicures, or simply relieve cold, tired feet.
Slip into luxurious warmth and comfort with these DreamTime Spa Slippers. For cold tired toes or achy arches, heat up these slippers and swaddle feet in nurturing warmth while enjoying the fragrant aroma of peppermint and lavender flowers.
Slip into DreamTime's Healing Touch Hand Cozys and give rough, hard-working hands a well-deserved treat of soft, warm comfort. DreamTime's Healing Touch Hand Cozys are the preferred choice of spa professionals. They can be heated or cooled for either therapeutic or beauty benefits. Hand Cozys soothe away aches and arthritic pain, comfort overworked hands, or make a manicure miraculous!
DreamTime's Breathe Easy Face Pillow gets breathing back on track. Filled with an herbal blend of the natural decongestant herbs of eucalyptus and peppermint, the Breathe Easy Face Pillow gently coaxes the sinus passages to open, promoting free and easy breathing. The pillow's weight provides a gentle acupressure to relax and soothe tired eye and facial muscles.
Located in Santa Cruz, California, DreamTime re-invents therapeutic pain relief, comfort and relaxation by offering a diverse collection of nerve and muscle soothing products for everyone as a path to daily well being. All DreamTime wellness products are of the highest quality, environmentally friendly and contain no animal products. DreamTime products are available nationwide at fine gift stores, resort spas and online at http://www.relaxanddream.com
# # #
Samples, Photos and Media Requests:
Natalie Quinan
natalie(at)hotstonecommunications(dot)com
Direct: (415) 235-8112
Hot Stone Communications