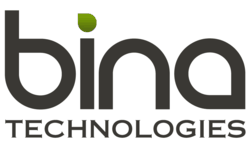 We at Bina are excited to help solve these challenges and deliver scalable genetic analysis, enabling clinicians and scientists to uncover entirely new medical insights.
Redwood City, CA (PRWEB) February 18, 2013
Bina Technologies, the genomic big data science platform accelerating personalized medicine, today announced the commercial launch of the Bina Genomic Analysis Platform. The platform is a linearly scalable end-to-end solution for genomic analysis that is uniquely built to deliver improved data accuracy, reducing the time and improving the cost-effectiveness of processing raw genetic data and generating new insights.
With the Bina Platform, research institutions, universities and health organizations are now equipped to analyze and manage the increasing volume of sequenced DNA data available for variant analysis, which has quickly become a big data problem and bottleneck across the genomic industry. Instead of analyzing a single genome which takes days to complete, the Bina Genomic Analysis Platform can analyze a whole human genome in 4 hours or less.
"One of the main barriers in making personalized medicine a reality is the ever growing challenges around data analysis and data management as more genomic data is generated each day," said Narges Bani Asadi, founder and CEO of Bina Technologies. "We at Bina are excited to help solve these challenges and deliver scalable genetic analysis, enabling clinicians and scientists to uncover entirely new medical insights."
Over the past several months, Bina has been conducting an ambitious pilot program with organizations including the Stanford Genetics Department and the Veteran Affairs (VA) Hospital of Palo Alto who have been using the Bina Platform to ingest and analyze genomic data with increased speed and accuracy. Each pilot is experiencing record-breaking results in both speed and accuracy, analyzing several hundred whole human genomes, each in under 4 hours at 40x coverage. Increasingly, scientific researchers and clinicians performing genomic analysis at scale are relying on improvements in both speed and accuracy, while expecting reductions in cost.
Historically, the delivery of data between upstream sequencing companies and downstream health and research organizations has been limited due to the lack of streamlined and affordable data analysis and delivery. The Bina Platform integrates elegantly as a much-needed pipeline between both the sequencing and analysis, and applied health and research segments of the market, enabling vast improvements in patient care due to timely and greater insight into diseases at the molecular level, such as cancer and other genetic disorders.
Moreover, most of today's genomic analysis tools within research organizations have been too reliant on open source pipelines that are not practical or accurate enough at true scale, as well as clinics who have become too dependent on homegrown technologies. The Bina Platform performs mission critical analysis at scale, more accurately and for less than the cost of doing it with open source or legacy solutions, speeding analysis by weeks and months.
The platform is offered as a massively scalable and extensible on-premise and hybrid cloud solution available on a monthly subscription basis, offering a high-performance computing and big data system for large-scale genomic analysis that organizations can trust. The on-premise solution, or the Bina Box, provides secure and dependable, private cloud storage for clinical organizations requiring even greater data security. Customers can also add Bina Boxes to rapidly increase their ability to analyze whole genomes at scale.
The new platform offering is the first formal technology product from the Silicon Valley based startup.
The Bina Technologies team will be presenting the Bina Genomic Analysis Platform to the public this week at the Advances in Genomic Biology & Technology conference from February 20th through 23rd in Marco Island, Florida.
To learn more about Bina Technologies, please visit: http://binatechnologies.com.
About Bina Technologies
Bina is the big data science platform accelerating personalized medicine for researchers and clinicians requiring fast, accurate and scalable genomic analysis. We develop cutting-edge big data technologies to dramatically reduce the amount of time and money required to process raw genetic data in order to generate insights for personalized medicine.
Bina was started by a team of Stanford and Berkeley researchers and entrepreneurs, with the vision that whole genome sequencing (WGS) is just the beginning of a brighter future. Bina is accelerating personalized medicine, one genome at a time.
We are a team of data scientists, bioinformaticians, software developers and high performance computing experts working in harmony in Redwood City, California. To learn more, visit: http://binatechnologies.com.