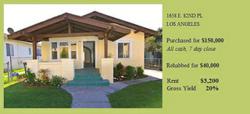 Buy what the hedge funds can't buy.
Beverly Hills, CA (PRWEB) February 20, 2013
Looking to take advantage of the new upswing in the real estate market SRE has been working with large institutional investment groups providing acquisition and consulting services. The new buy & hold asset class is arguably the hottest new discussion on Wall Street. Although the concept of renting single family homes as rental properties has been a reality since the advent of housing, it has up to know been practiced mostly by small mom & pop property owners. "We are now witnessing the first time large investment groups are moving into this industry bringing their volume approach and modern management capabilities." commented Jay Belson COE of SRE Investing.
Benefiting from there many years of residential real estate investing experience SRE has become a valuable resource for investors at every level.
So with the billions of hedge fund money competing for these distressed assets, how can the little investor win? "Buy what the hedge funds can't buy" says Seth Phillips COO of SRE Investing. Most of the hedge funds have a mandate that requires that they only buy Single Family Homes, but there is a similar and most of the time a better yield producing product. 2 to 4 unit properties are considered in the same residential category by retail lenders and qualify for very similar financing. This is in contrast to properties of 5 or more units which are considered Commercial. The financing on commercial properties is very different.
The Loophole.
Investing in 2 to 4 unit properties gives the following advantages.

Lower competition from the hedge funds due to their restricted fund criteria
The banks generally sell at steeper discounts because of rent control issues
A smaller percentage of investors are familiar with this investment type
Generate more rent for the same amount of space
Have similar liquidity options as single family homes
Large volume of available properties
Working with small and large investors SRE has become a leader in this niche investment opportunity. "Our investors love the returns, and keep coming back for more" says Jay Belson. "We work hard to protect our investor money and interests, because we want them to be part of our family forever".
This opportunity is foreclosure and distressed property driven. It has even coined a new phrase "REO to Rental". This represents the final part of the market correction process. But this is about people too. Whenever possible SRE's first priority is to rent the home back to the former owner and offer them a rent to own opportunity to help them get back to home ownership. With time and credit repair, many people can achieve this.
Not often in life is there an opportunity for investors to make good returns while at the same time helping to rebuild neighborhoods.
The Los Angeles market is already on an upward moving trend and soon the distressed properties will no longer be available. This is indeed a time to move fast.
SRE Investing understands the burgeoning trends within the real estate industry and provides investors with the means to grow their wealth. Now is the best time to be an investor, thanks to low prices, low interest rates, wide availability and the growing demand for homes combined with fewer consumers being approved for a mortgage.
By investing in neighborhoods, revitalizing and repairing foreclosed homes, and renting those homes to dependable families in need, neighborhoods grow and prosper, as do investors' portfolios.
To find out more about SRE Investing visit http://www.SREinvesting.com.
About SRE Investingt: Headquartered in Beverly Hills, SRE Investing specializes in Los Angeles real estate investing. Clients are able to participate as owners, lenders or partners in investments.