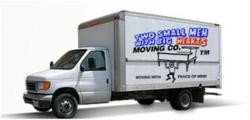 "I just wanted to let you know that I am beyond impressed with the service I
received with my move. You guys were prompt, courteous and hard
working! - Carmen of Seattle
Seattle, Washington (PRWEB) February 25, 2013
Seattle Moving Company, Two Small Men, is the largest independent moving network in North America. Having grown to over 300 trucks and 40 locations across Canada, last year they moved into the Seattle market.
Keeping pace with their past growth, after just one year, they outgrew their old facilities and recently moved to 10522 Lake City Way NE, Seattle, WA 98125.
The new facilities are bigger, newer, and more centrally located, thus preparing Seattle movers Two Small Men for continued growth. They've also added new trucks and additional employees.
Two Small Men grew steadily over the last 30 years by putting their customers first. Keeping with that theme, they're bringing that same level of customer service to Seattle.
"I just wanted to let you know that I am beyond impressed with the service I received with this move.  The movers were prompt, courteous and hard working!  I used a different company for my last move and your guys could not have been more different from my last experience.  Thank you so much for making this move as stress free as possible!" - Carmen of Seattle
Glen Buckler started the company in 1981. Today, just as back then, Glen puts his heart and reputation into each move, making sure that everything runs smoothly.
Glen attributes his success to hiring the best. "It's not me as much as it is I have a knack for hiring great people. By and large these are people with a lot of moving experience and they truly care about our customers."
Glen also goes out of his way to make sure he has the equipment and trucks that are clean and well serviced. Maybe that's why they pride themselves on timely pick up and delivery.
For more information about a good Seattle Moving Company check out http://TwoSmallMenMoving.com.