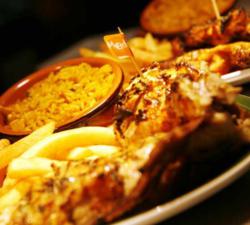 Saag means spinach and we all know that this did Popeye wonders in building muscle
(PRWEB UK) 19 February 2013
Number 5: Frankie and Benny's- Chicken Citrus Salad
Not only does this dish have a good source of clean proteins, but the citrus dressing adds phytonutrients and antioxidants that are crucial in helping your weight loss efforts. The substantial salad adds essential fibre which is very low in calories.
Choose this dish if you are on a high protein and low carbohydrate diet.
Number 4: Indian- Chicken Saag and Daal
Saag means spinach and we all know that this did Popeye wonders in building muscle. Why? Because it is packed full of protein and amino acids and is also equivalently high in fibre. Mixed with daal (lentils), this dish is a perfect muscle-builder with plenty of protein and low GI carbohydrates.
Choose this dish if you are trying to build muscle or maintain your weight loss.
Number 3: Harvester- Fish Grill With Side Salad
Most fishes contain omega 3 fatty acids that have actually been known to decrease "bad" cholesterol levels and help in reducing inflammation. Choose salmon which is also high in protein and is full of mood enhancing vitamins and minerals.
Choose this dish if you are on a low calorie diet.
Number 2: Wagamama's- Ginger Beef and Coriander Salad
Nearly reaching our Number 1 spot is this extremely healthy oriental dish. The beef is packed full of amino acids but is low enough in quantity to not send the saturated fats and calorie content sky high. Ginger has been known to help relieve gastrointestinal issues and coriander is a great source of vitamin C.
Choose this dish for an all-round meal packed full of essential proteins, vitamins and minerals.
Number 1: Nandos- Half Chicken, Mixed Salad, Sweet Potato Mash
Without a doubt at the number 1 spot is Nandos. This is perfect for anybody on any type of diet. The best dish to choose is a quarter or half of chicken which is quite obviously full of proteins. However, by adding spice to the chicken, this can rev up your metabolism and help in losing weight. Choose a simple side salad if you are on a low calorie diet or add in the sweet potato mash for a low GI carb extra. It is ideal for those seeking to build muscle.
Choose this dish if you are on a low calorie diet, high protein diet or seeking to build muscle.