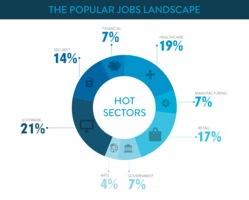 San Francisco,CA (PRWEB) February 19, 2013
Today JobAware releases an infographic about the hottest job sectors in the US. The attached infographic is based upon data from the US Bureau of Labor Statistics and JobAware's App usage from 2013. JobAware is currently the top rated job search App for iPhone and iPad. The app allows users to search, track, and save jobs, find inside connections to jobs, compare salaries, and much more.
Data highlights include:
Software (21% share) is currently the hottest job sector followed by healthcare (19%) and retail (17%).
San Francisco is the hottest city for software, while St. Louis is the hottest city for Healthcare.
San Francisco has 39% more jobs than unemployed people to fill them.Los Angeles has 1500% more unemployed than San Francisco with only 33% more job listings.
In 2013, The Texas Triangle (Austin, Houston, Dallas) has had 2x more job listings than Northern California.
View the full infographic by downloading the attachments. Sections of the infographic are also available for download.
About JobAware:
JobAware is a completely free job search application available on the App Store under the Business category and via any modern web browser on JobAware.com. The JobAware iOS apps provide many unique features that help job seekers make smarter decisions. Salary comparisons are provided for different occupations across major U.S. cities, taking into account cost of living differences and calculating comparable salary figures. Job discovery is also provided by auto-searching a user's device contacts and LinkedIn connections for job opportunities. Visit
http://www.jobaware.com for more information and to download the free iPhone and iPad apps.
For inquiries contact:
Allen Wang
Co-Founder
allen(at)jobaware(dot)com
Office: 770-378-1570