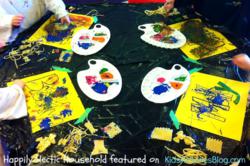 Painting with pasta and stamping with Strawberry baskets are both fun and educational for preschoolers.
Dallas, Texas (PRWEB) February 21, 2013
Pasta art is a preschool art tradition.
To have fun with pasta art at home is simple. Materials needed are trays of paint, sturdy paper, cardboard, or Bristol board, and a variety of cooked pasta. Instructions given to the kids are simple. Grab some pasta, dip it in the paint, and have fun painting. To keep the activity safe and sane, make sure all areas in the vicinity of the kids working station are covered with plastic or newspapers.
Other fantastically fun preschool art activities are Strawberry basket print art and the Strawberry basket counting game. These two easy preschool art and math activities can be done at home with leftover strawberry baskets, some paint, a pan, paper, and some salt.
Simply let the preschooler dip the strawberry baskets into the paint in a pan, and let them have fun stamping on the paper. The results are stunning.
Printmaking is not just pretty, it makes a great learning tool, too. Choose a smaller Strawberry basket for this activity. Call out numbers and let the child stamp the amount with the basket on the paper. Many variations can be played with this game.
For the complete instructions and to get additional fun preschool activities, check out Kids Activiteis Blog. Come get inspired to get the kids learning the fun way.
About Kids Activities Blog
Kids Activities Blog is a website created by two moms (who collectively have 9 children), Rachel Miller and Holly Homer from June Cleaver Nirvana. It is their daily goal to inspire parents and teachers to play with kids. This interactive website publishes simple things to do with kids twice a day. Kids Activities Blog is a great tool for moms and teachers to find kid-friendly activities that create memories and sneak learning into the fun.