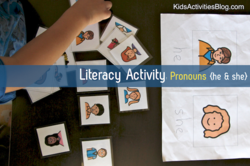 Learning pronouns can be both fun and rewarding.
Dallas, Texas (PRWEB) February 22, 2013
A literacy activity can solidify a child's understanding of a concept while they are having fun. Learning pronouns games are not only lots of fun for the child, they provide a great learning environment as well.
The fun pronoun game will provide some preparation, but the rewards and results are well worth it. Materials needed are a piece of paper with a male and female picture and the words he and she underneath the corresponding pictures. In addition, cut out a gallery of men, woman, girl, and boy pictures and preferably laminate them to make them more durable.
To play the fun game, explain to the child the pronouns he and she and let the child separate the gallery of pictures into a male and female stack. For the complete instructions and additional literacy activity games, check out Kids Activities Blog.
Kids love to play on websites for children on the internet. A resourceful list of Mom-approved and Kid-tested websites has been released on Kids Activities Blog. Among the favorite websites are Starfall, PBS kids, Kneebouncers, Suesville, ABC Ya, Disney Go, and Professor Garfield. The Big Universe is also a big hit, in case one missed going to the library. The website provides hundreds of children's books online. Also, Storyline Online is a fun website where children can listen to their favorite books over and over again.
Come check out Kids Activities Blog this week to get the latest on fun literacy games and educational websites for children. Get the kids inspired to learn the fun way.
About Kids Activities Blog
Kids Activities Blog is a website created by two moms (who collectively have 9 children), Rachel Miller and Holly Homer from June Cleaver Nirvana. It is their daily goal to inspire parents and teachers to play with kids. This interactive website publishes simple things to do with kids twice a day. Kids Activities Blog is a great tool for moms and teachers to find kid-friendly activities that create memories and sneak learning into the fun.