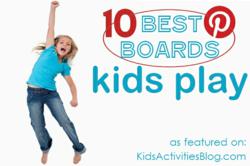 Pinterest boards provide a fast way for people trying to find all kinds of kids' stuff.
Dallas, Texas (PRWEB) February 23, 2013
The top 10 list of best Pinterest Boards for kids activities and play ideas has been released on Kids Activities Blog this month.
The list includes a fun collection of All Things Play from Jamie of Hands on: As We Grow, a fun board for Daily Dose of Outdoor Play by Rebekah at The Golden Gleam, a gallery of Toddler Play Activities from For The Love of Learning and Kids Party Ideas from Mama Smiles. Jean at Artful Parent has a lot of colorful creative activities for kids. If adventure is what one is looking for, check out Interact With Your Baby from Adventures at Home.
One of the largest Pinterest boards for kids activities is the Holly Homer Pinterest site. The site offers over 72 boards with over 7,500 pins ranging from kids home decoration, to baby activities, to kids food, to All Things Parenting, to Seasonal Activities, to LEGO, to Board Games, to Activities for Older Kids, to science stuff and photography samples, just to name a few. The list is endless and provides something for everyone who is looking for anything related to kids and parenting.
For the complete list of Pinterest boards and topics, check out Kids Activities Blog this week. Come get the kids inspired to learn the fun way.
About Kids Activities Blog
Kids Activities Blog is a website created by two moms (who collectively have 9 children), Rachel Miller and Holly Homer from June Cleaver Nirvana. It is their daily goal to inspire parents and teachers to play with kids. This interactive website publishes simple things to do with kids twice a day. Kids Activities Blog is a great tool for moms and teachers to find kid-friendly activities that create memories and sneak learning into the fun.