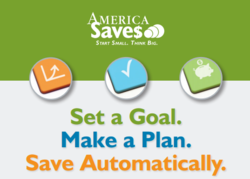 The chat is expected to reach over 2.1 million impressions.
Los Angeles, California (PRWEB) February 19, 2013
Personal finance blog Wise Bread has partnered with SaveUp to host a tweetchat to promote America Saves Week. The chat will take place on February 21st, 2013 from 12 to 1 pm PST and will discuss fun ways to save money. The chat will help people find creative and imaginative ways to save money and avoid the typical mindset that, while important, saving money is boring.
Chat participants will have the opportunity to win a $100 or $50 giftcard to Amazon.com. To have a shot at winning a prize, participants must follow Wise Bread (@WiseBread) and SaveUp (@playSaveUp) on Twitter, RSVP for the chat, and participate in the chat using the #WBChat hashtag. For details on the chat and to RSVP, check out the official chat page.
The chat is a celebration of America Saves Week. America Saves Week is coordinated by America Saves and the American Savings Education Council. Started in 2007, the Week is an annual opportunity for organizations to promote good savings behavior and a chance for individuals to assess their own saving status. Typically, over 2,000 organizations participate in the Week reaching millions of people.
SaveUp is sponsoring the $150 in prizes for the chat. Founded in 2011, SaveUp (http://www.saveup.com) is the first free nationwide rewards program that encourages consumers to practice good financial habits while having fun. Americans who bank at any US financial institution can get rewarded with the opportunity to win exciting prizes like vacations, cars, and cash, every time they save money, reduce debt or increase their financial knowledge.
During the entire month of January, SaveUp hosted a "no spend challenge" and provided $10,000 in prizes to encourage people to avoid using their credit cards. The challenge inspired over 100,000 entries.
"We are honored to be partnering with America Saves," confirms Priya Haji, CEO and co-founder of SaveUp. "Both SaveUp and America Saves are aligned in helping Americans build a better financial future."
Wise Bread's sponsored tweetchats reach an average of 115,000 people and have around 2.1 million impressions. All recent sponsored chats have trended on Twitter in the United States.
"We are thrilled to team up with SaveUp to promote America Saves Week and discuss fun ways to save money. SaveUp is the go to site for making saving money fun and our #WBChat is a fantastic way to get the word out about America Saves Week!" said Ashley Jacobs, Wise Bread's Community Coordinator.