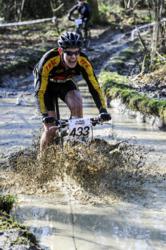 (PRWEB UK) 21 February 2013
Mud Runner Icebreaker was held on the Eastnor Estate last weekend and put hundreds of atheletes through a grueling duathlon; 10km run, 20km bike ride and 3km run. The tracks and the ground alongside the steep climbs were unforgiving and Ice Breaker was true to it's name. The thick mud and deep water troughs began the day with a layer of ice that the front runners had to break through but it did not deter anyone from completing this toughest of courses.
Both the winners, Matt Page and Vickie Wilkinson, were previous Ironman competitors and showed amazing grit both finishing 3-4 minutes ahead of their nearest rival. Not all the competitors were experienced at duathlons and many put themselves and their mates through hell to raise money for various charities. Daniel Gelebert Smart and girlfriend Steph Kane, from Newport, ran to raise money for Help For Hereos, as Daniel is a Reservist in the Royal Monmouthshire Royal Engineers Militia. He is going to be deploying to Afghanistan with the regular army in March for 6/7 months. They raised more than they hoped for and Daniel said "It did remind me of things I have done with the army. The water wading, thick mud and heavy water logged boots. Even though it was really hard, I really enjoyed it and will definitely do it again when I get back."
The next Mud Runner is the Dirty Weekend in June which is a 10km mud filled obstacle race that takes place over two days.
Results
Men's Results
1st Matthew Page 02:16:11 hrs
2nd Alex Lewis 02:20:21 hrs
3rd Jon Mansfield 02:25:36 hrs
Female Results
1st Vickie Wilkinson 02:52:30 hrs
2nd Sarah Barber 02:55:12 hrs
3rd Elsa knoertzer 03:06:41 hrs