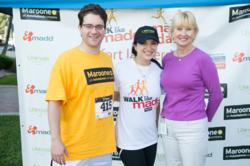 It's really about igniting the community, states Geronemus, the more people we engage the closer we get to eliminating drunk driving.
Ft. Lauderdale, Florida (PRWEB) February 20, 2013
The CrossFit community is rapidly becoming one of the most well known demographical subsets supporting charitable causes. CrossFit competitions and events, composed of "WODs" (Workout of The Day) supporting breast cancer, multiple sclerosis and many other worthy causes are popping up in nearly every community across the nation including Ft. Lauderdale.
MADD Broward has enlisted the greater Ft. Lauderdale CrossFit community to support their important mission – to end drunk and drugged driving. "After doing CrossFit for more than five years now, I really feel compelled to bring the CrossFit community together to support this cause that is so near and dear to my heart," states Heather Geronemus, event chairwoman.
For the third consecutive year Geronemus, who lost her dad to a drunk driver four years ago, will chair the Walk Like MADD & MADD Dash presented by Ultimate Software & Autonation. "It's really about igniting the community," states Geronemus, "the more people we engage the closer we get to eliminating drunk driving."
The "WOD Like MAD" competition will take place at South Florida CrossFit Endurance on Saturday, April 13, 2013 at 8 a.m. This event is in anticipation of the 2013 Walk Like MADD & MADD Dash taking place on Sunday, April 28, 2013 at Huizenga Park in Ft. Lauderdale – to register visit http://www.walklikemadd.org/fortlauderdale. The cost is $20 for adults / $15 for kids - corporate, family and law enforcement team sign up is also available. For the most up to date event info visit facebook.com/madddashfortlaud.
"This year we are reaching further by engaging the CrossFit community and adding this additional event," states Geronemus. Last year's Walk Like MADD & MADD Dash raised more than $85,000 to continue MADD Broward's community education, victim support services and youth programs.
"By bringing the South Florida community together, we will continue raising funds to educate the community on the dangers of drunk driving – helping to ensure that until drunk driving stops, the support system will be there for the inevitable victims of this violent crime."
The State of Florida is ranked 24th on MADD's DUI related traffic death map –Maine (ranked 1st) has the lowest number of deaths and Hawaii (ranked 51st) has the highest number (Washington D.C. is included as a separate entry).
ABOUT MADD
Founded by a mother whose daughter was killed by a drunk driver, Mothers Against Drunk Driving (MADD) is the nation's largest nonprofit working to protect families from drunk driving and underage drinking. MADD also supports drunk and drugged driving victims and survivors at no charge, serving one person every nine minutes through local MADD victim advocates and at 1-877-MADD-HELP. Learn more at http://www.madd.org or by calling 1-877-ASK-MADD.