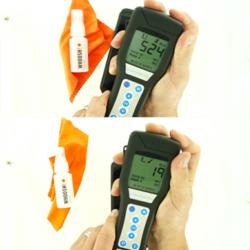 It should come as no surprise that phones are a big culprit in how people are getting sick.
Tulsa, OK (PRWEB) February 19, 2013
People don't generally think about the need to clean their mobile phones. Influenza has become a huge problem in Oklahoma, with over a dozen flu related deaths since the beginning of the year. Recent reports from the Wall Street Journal, ABC News, and other sources referenced in a report on PhoneDoctors.com claim that mobile phones can have more germs than a public toilet seat.
Phone Doctors is doing what they can to limit the spread of the deadly virus by educating and encouraging people to either come in and have their Smartphones cleaned free of charge, or to purchase a professional cleaning solution that is designed to reduce the spread of germs, while being safe for the mobile device.
"It should come as no surprise that phones are a big culprit in how people are getting sick." Said Tony Baker, Vice President of Marketing for Phone Doctors. "People need to get in the mindset of cleaning their phones daily, especially since they are warm devices that often rest on the very things we need to protect; our mouth, nose, ears, and fingers. Smartphone manufacturers warn against using anything stronger than a damp terry cloth, but a damp terry cloth will do nothing for germs," said Baker.
According to the report at Phone Doctors, viruses and bacteria have been found to spread where germs and heat are present. "Mobile devices are naturally warmer than the environment around them because of the internal power source, and in how we carry and store the devices on us and from the research that we have read, this can provide the perfect breeding ground for a sickness in the making. We bathe ourselves to be fresh and clean so we ought to take more time protecting ourselves and our gadgets by keeping them clean as well, and WHOOSH! appears to be a safe and effective gadget cleaning product," said Baker.
Phone Doctors chose WHOOSH! Screen Shine because it is non-abrasive to mobile phones, and yet has the ability remove the dirt and grime that attracts germs. WHOOSH! Screen Shine uses natural polymers to remove biofilm, dirt, smudges, skin oils and fingerprints while leaving a nano-thin, invisible coating that resists dust, smudges and fingerprints. WHOOSH! Screen Shine is an alcohol- and ammonia-free, anti-static and streak-free formulation.
For more information about Phone Doctors, please visit: http://PhoneDoctors.com
About Phone Doctors
Phone Doctors specializes in the repair of all major devices including iPhones, iPads, iPods, Androids and Tablets as well as provide device protection and gear. Phone Doctors also offers replacement devices to no contract customers. Phone Doctors has six corporate locations in Northeastern Oklahoma and Northwestern Arkansas, as well as licensed dealers across the U.S. and Canada For more information about Android Smartphone repair and iPhone repair, please call 1-855-234-9483 or visit: http://phonedoctors.com