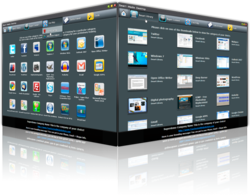 Henderson, Nevada (PRWEB) February 19, 2013
For those who have not yet heard of Home Page Pays from Smart Media Technologies they sum themselves up like this:
"Smart Media is a world-class technology company that has developed proprietary technology called "Home Page Pays" (HPP) which is set to revolutionize the Internet world.
HPP works on any computer or browser and no technical experience is required. In fact, it is so simple, if you have access to the Internet, you can use this system!
HPP is a platform that offers the Internet user dynamic free services and products combined with the very best digital branding and advertising services that are available online."
This Official Full Product Description gives the most up to date in-depth look at both versions. Version one is current available to any one at no cost. Version 2 is currently only available to paid members but will soon be available to free members as well.
The official full product description can be viewed click here.
As Smart Media CEO, David Martin says; "Through creativity and our amazing technical team, we can do almost anything that we can dream. Our goal is to offer the most valuable free member system ever created."
To learn more about Smart Media Technologies visit their website at: http://smartmediacommunications.com
To learn more about the Home Page Pays Dynamic Bar go to http://smartmediaplay.com