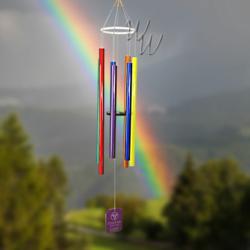 Chakra chimes are just the answer to those long days- the notes will fill your home with positive energy and have you recharged
Clarksboro, NJ (PRWEB) February 20, 2013
Whimsical Winds, the largest wind chime retailer online, announced today that it will be adding the new Grace Note Chakra Wind Chime available in both small (36") or medium (42") sizes. The new chimes are currently in stock and are already priced below regular retail price.
Seven brightly colored aluminum tubes represent each color of the rainbow, and each are tuned to correspond to the seven Chakras (or energy centers) of the human body. Either size of the Grace Note Chakra wind chime sends vibrations and sounds that will impact the body's energy by clearing negative emotion and energy while restoring balance.
"In this fast-paced world, we want our customers to take time to relax and enjoy their surroundings" said Alexander Innes of Whimsical Winds Wind Chimes. "These new Chakra chimes are just the answer to those long days-the notes will fill your home with positive energy and have you recharged for tomorrow".
These new wind chimes offered by Whimsical Winds Wind Chimes feature a powder-coated finish, are hand-tuned to the key of C, and are made of recycled composite lumber striker for a softer contact sound.
You can view these chimes on the Whimsical Winds website:
Grace Note 36" Wind Chime Chakra
Grace Note 42" Medium Wind Chime Chakra
You can find Whimsical Winds' many styles of wind chimes available for purchase on their website: http://whimsicalwinds.com
To stay updated on the latest news, savings and coupons from Whimsical Winds, sign up for their newsletter: http://www.facebook.com/whimsicalwinds/app_166303603381066
About Whimsical Winds Wind Chimes:
Whimsical Winds Wind Chimes is the largest retailer of wind chimes on the web with over 800 styles available from some of the most popular wind chime manufacturers. Wind chimes make the perfect gift, memorial, or personal addition to your home. Carrying chimes, bells, gazing balls and wind spinners from over 14 manufacturers, you are guaranteed to find the perfect decorative piece.