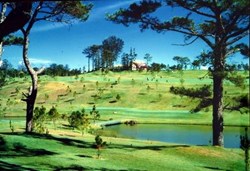 (PRWEB) February 19, 2013
To cater for the high demand of tourism, many travel services have been emerging. However, Smile Travel Vietnam is mentioned as the most reliable and best one in Vietnam. Not only does it provide the high quality of services, but it also constantly launches big offers to attract more customers. This is the time for tourists to get surprisingly cheap tours, ranging from a 1-day package to a 1-month package. Besides, using the service of Smile Travel Vietnam, customers are also offered other great services including tour guides, hotels, airline tickets, visas, and so on. The discount can range from 30 to 50 % for each type. Take a look at Da Lat to discover the reason why many tourists fall in love with this romantic and beautiful city.
Situated on Langbian highlands at the elevation of 1,500 meters, Da Lat originates from the hill tribe of the region. It was first discovered in 19th century. Since then, tours in Da Lat have become the ideal choice for tourists, especially honeymooners.
Da Lat is well-known for the charming lakes and waterfalls, which are surrounded by evergreen forests such as Xuan Huong and Than Tho. Owning the reputation of resort town with a wide of wooden villas, health spas and elegant hotels, Da Lat brings the elegant and luxurious beauty of a modern city. However, its natural characteristics are always considered as its outstanding enchantment. Tourists will have unforgettable memories and deep impressions on reaching Flower Garden, Valley of Love, and Langbian Highland. They seem to become the legend for long because of the heavenly charm. Especially, this city is named as the destination of lovers. Couples can enjoy the greatest moments with their lovers in the romantic and peaceful world here. For families and groups of friends, it must be so enjoyable to have a fresh and comfortable holiday.
Since more and more tourists are booking tours to Hoi An, Smile Travel Vietnam offers a wide range of tour packages. The minimum cost of a tour package can be $15 - $22 for a tour around Da Lat on bike in 1 day. The maximum package is "cycling unexplored beaches" in 15 days and 14 nights at the price of $1280 - $1975. Besides, tourists can consult more information on different tours in Da Lat on the website of Smile Travel Vietnam. Customers booking soon will have a chance to get cheap tours and many other offers.