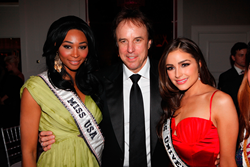 Los Angeles, CA (PRWEB) February 20, 2013
This engaging evening of entertainment was kicked off by host actor & comedian Kevin Nealon taking the stage with one joke after another and set the evening to be about not only awareness, but laughter and enjoyment. Shortly thereafter Paul McDonald (American Idol) shared his musical talents, followed by a swimwear fashion show by A. Ché, and an exhilarating dance performance by Dancing with the Stars' Paul Barris and Sharna Burgess. Last but certainly not least Josh Krajcik (X Factor) performed over 30 minutes and the guests couldn't get enough of his powerful set starting with his famous cover of Etta James' "At Last" and closed the night with a cover of Rolling Stones' tune "Wild Horses".
The Sheraton Grand Ballroom set the scene for 350 people who enjoyed this unique spectacular evening. During the VIP hour, attendees enjoyed signature cocktails courtesy of Chambord Vodka. Celebrities in attendance included Twilight Star Nikki Reed, Actors Edwin and Aldis Hodge, Kimberly Caldwell, Chelsea Lately's Chuy Bravo, Torrance, Coombs, Cheryl Burke from DWTS, and many more. Among the attendees were reigning Miss Universe Olivia Culpo, reigning Miss USA Nana Meriwether, reigning Miss California USA Mabelynn Capeluj, and many other Beauty Queens such as: Reigning Miss California Teen USA Cassidy Wolf, Reigning Miss District of Columbia Allyn Rose, Miss South Carolina USA 2011 Courtney Hope Turner, Miss Teen Hawaii Melissa Paulino, Miss USA 2011 Alyssa Campanella, Miss USA 2009 Kristen Dalton, Miss USA 04 Shandi Fennessey, Miss Teen USA 03 Tami Farrell and Miss Vietnam Deanna Nguyen.
Leading up to the event, titleholders Miss Universe Olivia Culpo, Miss USA Nana Meriwether, Miss California USA Mabelynn Capeluj and more donated their time by auctioning a date to the Date for the Cure Gala. Throughout the evening, guests had the opportunity to bid on silent auction items all for much needed funds going directly to Breast Cancer research and treatment. http://www.dateforthecure.org/
Date for the Cure is a nonprofit corporation created by executive producers Rod Luck and 17 year cancer survivor Jerry Wayne dedicated to creating events that help raise funds for important breast cancer programs. The Inaugural Date for the Cure Gala benefits Susan G. Komen for the Cure, Los Angeles County. Contact info can be found at http://www.dateforthecure.org.
The Los Angeles County Affiliate of Susan G. Komen for the Cure is dedicated to saving lives and ending breast cancer forever by empowering people, ensuring quality care for all, and energizing science to find the cures. To date, The Affiliate has raised over $9.2 million for community-based grants to local LA County health organizations. Through these grants, Komen LA County provides crucial funding for breast cancer diagnostic services, educational programs, patient navigation, and psychosocial support.
Komen LA County is a local charity serving the communities of Los Angeles County. Seventy-five percent of the Affiliate's net income funds grants to local hospitals and community health organizations serving the uninsured and underinsured women in Los Angeles County. The remaining 25 percent supports Susan G. Komen's national grants program which funds groundbreaking breast cancer research and education initiatives around the world. For more information and ways to get involved in the fight to end breast cancer, please visit: http://www.komenlacounty.org/
THE INVENT GROUP specializes in celebrity driven charitable events and campaigns. Started by founder Michael Wasserman, The Invent Group is a leader in philanthropic events working with charities and celebrities around the country to create events and campaigns that are unique and exciting. For more information visit http://www.theinventgroup.com
GBK PR specializes in entertainment marketing integration. Formed in 2000 by Gavin Keilly, the company's Founder and CEO, GBK consists of five divisions: GBK Celebrity Gifting, GBK Special Events, GBK Weddings, GBK Charitable Consulting and GBK Marketing/Public Relations. Widely known in the entertainment industry for bringing that little extra something to events, GBK offers its clients a full range of marketing and PR services. gbkproductions.com
For PR Questions CONTACT:
Los Angeles
Nicole Benninga
Nicole[at]gbkpr[dot]com
323.933.9989