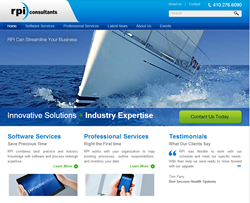 Our company will be introducing many new services and service lines in the coming months, and the new website will be more scalable to these needs.
Baltimore, MD (PRWEB) February 19, 2013
RPI Consultants launched their new website in early February to fully reflect their growing line of services to current and potential Lawson, ImageNow, PeopleSoft, and Kofax clients. With a sleek, contemporary web 2.0 design and improved organization, the updated site will be able to showcase RPI's professional and software services.
"We wanted to create something that was more streamlined and up-to-date with our growing line of services," said Keith Wayland, Partner at RPI Consultants. "We have decided to incorporate social media, a search bar, and user-friendly navigation. Our company will be introducing many new services and service lines in the coming months, and the new website will be more scalable to these needs. In addition, we have been able to expand the free educational and thought leadership content and will continue to do so."
To keep up with developments in the company, RPI Consultants has launched a LinkedIn community, as well as Twitter and Facebook pages to post continuing updates. Similarly, RPI has added Latest News and Events pages. The Events page includes past and future webinars, along with upcoming conferences where RPI Consultants will be present.
As a growing consulting firm, RPI Consultants has continued to expand its software related services. The acquisition of iTS Solutions in July of 2012 brought added PeopleSoft experience to the company to assist clients with productivity and business performance. Geoff Lilienfeld, is further developing RPI's ImageNow practice as the firm's new ECM Manager. ImageNow services have expanded to include more in-depth knowledge on iScripts, System Design, Implementation, and Software Upgrades. RPI leverages its expertise in Advanced Data Capture technologies such as Kofax and Brainware to improve ECM capabilities and integrate seamlessly with common ERP Solutions such as Lawson and PeopleSoft. RPI's HR solution services extend to Oracle's Taleo, Infor's Lawson Talent Management and HR Service Delivery and Access Formatta solutions.
In addition to RPI's software related services, RPI Consultants offers an array of professional services, including Interim Management, Process Improvement, System Selection, and Project Management, which help clients implement leading practices and improve business processes. RPI is recognized as an Industry leader in Shared Services, where RPI incorporates the latest trends into the design, build, deployment, and optimization of centralized operations departments for its clients and relies on over ten years of experience in optimizing Procure to Pay and HCM processes and enhancing Accounts Payable, Human Resource and Supply Chain department methodologies.
RPI Consultants is an ERP implementation and optimization firm focused on delivering best practices through technology, systems integration, and process redesign. The RPI team includes certified technical and functional experts in Lawson, PeopleSoft, ImageNow, and Kofax as well as other automation technologies to enhance the procure-to-pay, financial reporting, and human resources processes.