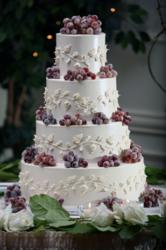 Newport Beach, CA (PRWEB) February 20, 2013
It is commonplace for wedding trends to come and go, but one new, unusual trend has surprisingly made its way into the scene, reports Wedding.com. So what is this new trend? Spider-Man hiding in wedding cakes.
Apparently, the comic book character has been spotted at weddings on more than one occasion. He is made as part of the wedding cake and is usually found lurking beneath an unsuspecting bride and groom cake topper (http://m.io9.com/5984856/hiding-spider+man-on-wedding-cakes-is-apparently-becoming-a-trend). Although Wedding.com experts are unsure when exactly the trend began, they say it was likely Spiderman held a special place in the relationship of the first couple who inadvertently became the catalyst to this particular wedding trend. Maybe the couple read Spiderman comics together while dating, or maybe their first date consisted of watching Spiderman movies at the theater. The possibilities are endless, and experts believe others will take note of the unorthodox trend and use the same basic concept in their own wedding plans.
"The Spiderman trend may not quite be for everyone, but I am sure there are plenty of people out there that will take the idea and run with it," says Brett Reynolds, CEO of Wedding.com. "I would not be surprised if we start to see other characters hiding in odd places at a wedding. Who knows? Perhaps next time, we will be reading about Batman or Wonder Woman in a bridal bouquet."
For more information about Wedding.com, please visit http://www.wedding.com.
About Wedding.com
Wedding.com is an innovative new website that connects engaged couples planning their wedding with wedding vendors looking to grow their business. Wedding.com contacts vendors for couples, giving them the power to compare and negotiate while ultimately saving time and money. With 12,000 couples and 22,000 vendors currently using the website, 105,000 proposals have already been sent since their inception. Vendors range in services from wedding planners, photographers, florists, and DJs to custom invitations, party favors, and much more. For additional information about the company and its services, please visit http://www.wedding.com.