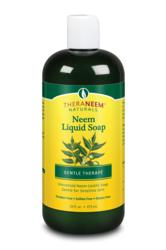 Formulated to be gentle and soothing, TheraNeem Naturals Liquid Neem Soap is a fresh approach to body care. Your skin feels clean and nourished after use with no filmy after effects.
(PRWEB) February 20, 2013
Organix-South™ introduces Neem Liquid Soap, a powerful Neem and Castile soap made with certified organic oils and no harsh detergents which can compromise the skin and hair. The liquid soap is packaged in 16 fl oz bottles and comes in two varieties: unscented and soothing Lavendar. Neem Liquid Soap is free of parabens and sulfates plus the products are cruelty free and vegan.
TheraNeem Naturals Liquid Neem Soap has a variety of uses for the body and as a household cleaning solution. As a face and body wash, you simply apply using hands, cloth or loofah and then massage over face and body, rinsing well. For the hair, apply a small amount to palm and massage into wet hair, then rinse. At bath time, squeeze desired amount into running water for a soothing bath soak. Liquid Neem Soap is safe for children and adults. For all natural cleaning, use 4 parts water to 1 part liquid soap for all household chores. It even makes a great natural detergent substitute. Take camping, use in bathroom dispenser for washing hands or treat plants to a bath for removing dust build up and household chemicals from humidifiers. Plants love Neem too.
"Formulated to be gentle and soothing, this liquid soap is a fresh approach to body care. Your skin feels clean and nourished after use with no filmy after effects," announced Autumn Blum, Organix-South founder and formulating chemist. "I've always loved castile soaps, and we made them even better by adding in a generous amount of organic aloe and multi-purpose neem oil."
Neem is respected by Ayurvedic practitioners for its diverse range of properties. Packed with antioxidants and essential fatty acids, Neem protects, nourishes and moisturizes even the most sensitive skin and lends itself well to soaps, shampoos, conditioners, creams and many other body care products.
Based in rural central Florida, Organix-South, a division of the Nutraceutical Corporation subsidiary Nutragarden offers a range of award-winning therapeutic lines: TheraNeem Naturals, TheraVeda Organix and Naked Organix. Manufactured in the USA, TheraNeem Naturals offers the world's leading line of certified-organic Neem based products. The organic TheraNeem body care range includes Neem Leaf capsules and extracts, oral care, hair care, bar soaps, skin care, and pet products. Products are available at health food stores, pharmacies, yoga studios and other fine outlets. For information, see http://www.organixsouth.com or call 888.989.NEEM. To find Organix-South on Facebook, go to http://www.facebook.com/organixsouth.
###