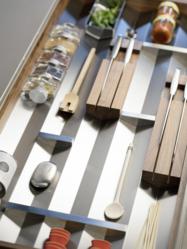 The new bulthaup interior fitting system breaks away from the rigid kitchen structures of the past, and introduces a new, intuitive approach. Owners become the directors of their kitchen scenography. Marc O. Eckert, CEO of bulthaup
Los Angeles, California (PRWEB) February 19, 2013
German kitchen manufacturer bulthaup is proud to announce it has won a 2013 Design Award from Wallpaper* magazine for the new bulthaup b3 interior fitting system -released last spring at showroom events hosted during the International Furniture Fair in Milan and the International Contemporary Furniture Fair in New York. The product was recognized in the award program's "Best Storage" category.
This is the ninth year Wallpaper* has hosted its round-up of the best of the best in the design world. A full list of award winners is published in the magazine's February issue, currently available in 93 countries and on the iPad.
"We're honored to be recognized by Wallpaper* magazine," said bulthaup CEO Marc O. Eckert. "The new bulthaup interior fitting system breaks away from the rigid kitchen structures of the past, and introduces a new, intuitive approach. Owners become the directors of their kitchen scenography. For the first time, they can define the interior of their drawer organizational systems in line with their specific needs, and easily rearrange and expand them."
The b3 interior fitting system is based on the use of functional prisms –geometric kitchen components and accessories that fit precisely into V-shaped channels in crafted drawer inserts that run parallel to the length of the cabinets. Users can change, remove and reorganize drawer components and accessories over time to best meet their evolving needs. This allows users to add a personal touch to an often overlooked –yet very important- part of the kitchen environment.
The geometric structures –made out of stainless steel, metal with wood veneer and an anthracite-colored soft feel surface- create a distinct look and feel in bulthaup drawers while also fulfilling a functional role. The sliding elements are used to hold in place, organize and provide support wherever necessary. The new horizontal drawer organizational system was also created to be more ergonomic than conventional vertical designs.
In addition to the 2013 Design Award from Wallpaper* magazine, the b3 interior fitting system received a 2012 GOOD DESIGN™ Award in the Kitchen/Appliances category from the Chicago Athenaeum: Museum of Architecture and Design and The European Centre for Architecture Art Design and Urban Studies, and a Product Innovation Award from Architectural Products Magazine.
About bulthaup
bulthaup's philosophy is clear: every detail has a purpose. The company's kitchens are revered for their clean lines, ergonomic layout and precision German engineering and manufacturing – all of which are fundamental to creating timeless living spaces that are meant to be used. bulthaup systems suit any aesthetic or environment and strike a perfect balance between the home's architecture and the way one lives. Proprietary seamless interior components, premium wood veneers layered with aluminum and precision hardware are a few of the details that reflect the high level of craftsmanship associated with the bulthaup brand. From modest to premium collections, all products are built to the highest possible standards. Founded by Martin Bulthaup in Germany in 1949 and led by Marc O. Eckert in the 3rd generation, the company remains a family owned and operated entity with showrooms in more than 50 countries, including showrooms in major markets throughout the United States. For more information visit: http://www.bulthaup.com.