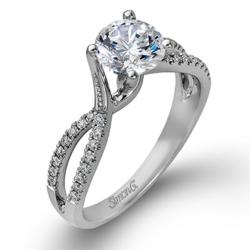 Los Angeles, California (PRWEB) February 19, 2013
Oscar's Design Jewelry is well-regarded in the United States for offering an exquisite line of engagement rings that speak to creativity, enduring emotion and the desire for excellent craftsmanship. The company recently decided to expand its selections even further by partnering with two of the most innovative and artistic jewelry designers in the modern world. Oscar Jewelry invites all couples to visit its store or access the engagement ring selections online to explore the beauty of Simon G. and Gabriel & Co. designer engagement rings.
Simon G. Designs – A family owned and operated manufacturer, Simon G. Jewelry has gained national acclaim as a top brand in the design of engagement rings. Along with a reputation for designing top-of-the-line diamond engagement rings, Simon G. Jewelry is also esteemed for its intricate and innovative styles, its line of fashion jewelry and its high-quality craftsmanship. Oscar's Design Jewelry is proud to add this distinctive line of engagement rings and bridal jewelry to its already significant designer collections.
Gabriel & Co. Designs – Jack and Dominic Gabriel of Gabriel & Co. have an excellent reputation as passionate designers with a flair for artistry. They learned about the science and art of jewelry design from their father, Elias Gabriel, who taught the brothers how to combine precious stones and metals to create unique and artful pieces of jewelry. Engagement ring designs by Gabriel & Co. make perfect additions to Oscar's Design Jewelry due in large part to fashion-forward style combined with the allure of timeless classic elements.
About Oscar's Design Jewelry:
Founded and helmed by Oscar, a Gemologist graduate from the Gemological Institute of America (GIA), Oscar's Design Jewelry offers more than 20 years of professional experience in jewelry design, superior craftsmanship and knowledgeable appraisals in downtown Los Angeles. Acclaimed as "the area's finest jewelry store" and recognized as experts by several local television programs, Oscar's Design Jewelry is proud to provide customers with top-quality merchandise and personalized customer support at the best prices in the jewelry industry. Stop by anytime to check out Oscar's Design Jewelry showroom or browse the exquisite jewelry selections online at http://www.oscaring.com.