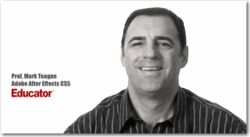 More than ever before, people use images and videos to communicate.
Los Angeles (PRWEB) February 19, 2013
If you have ever wanted to create motion graphics or visual effects for videos, Educator.com's newest software training course in Adobe After Effects is for you.
After Effects is a substantial program with many options. Like Educator's Photoshop CS6 course and other software programs, it takes time and diligence to learn. Instructors who have used the software in their own career and personal lives use real-world examples and go through step-by-step applications on screen. Cultivating the skills it takes to create powerful motion images can easily take a lifetime. With Educator.com, serious students and professionals can enhance and practice their skills in a little as four hours.
More than ever before, people use images and videos to communicate. Visual culture is also rapidly growing and changing. Educator.com understands that trends will change over time and is determined to provide students with access to the latest training in cutting edge software.
For the affordable price of $35 dollars a month, students have complete access to a variety of software and computer programming courses, along with comprehensive high school and college subjects. With 60+ courses to choose from, students can learn almost anything, anywhere. Opt for the 6 month or 12 month bundle plan and save even more.
Educator.com is excited to provide today's scholars with digital study material that meets both their academic and financial needs. New and exciting courses are frequently added. At this time Educator's After Effects courses are available for immediate viewing.
###
Educator.com pairs students with the best university professors and educators in the country. Educator's goal is to provide high school, college, and professional students with a variety of academic subjects in an online video format that is affordable, accessible, effective, and comprehensive.
The most effective way to improve education is to have the best teachers teach. With the best instructor in a subject, learning anything is possible. Every student deserves an excellent education regardless of geographic location or socioeconomic status and with Educator.com's affordable pricing everyone can access the site's complete content. For more information about the company please visit the About Us Page.