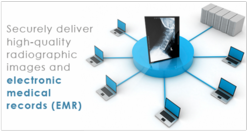 Our providers don't have to know the languages or how to integrate them. They trust us to do that for them.

Ken Kern - MediMatrix VP
(PRWEB) February 21, 2013
With the federal government's deadline and fear of penalties looming, more long-term health care facilities are obeying the mandate to replace paper charts with electronic ones. The implementation of electronic medical records (EMR implementation) comes with new computer language that some may find nearly impossible to understand. Not so with MediMatrix – a service provider that helps portable X-ray and ultrasound business owners solve their communication and efficiency problems with their care facilities. "We wrote programs using much of the new language and have spent years integrating it," said company Vice-President Ken Kern. "Our providers don't have to know the languages or how to integrate them. They trust us to do that for them."
Some of that new technology would sound Greek to many people, but it's second nature to MediMatrix experts. As an example, Health Link 7 (HL7 Integration) will be the language necessary for EMR implementation. Facilities order in their own system and transmit to the mobile provider's MediMatrix service that then can send a report back to the facilities' EMR. MediMatrix streamlined the EMR integration process making it more accurate and convenient for clients who don't have to manage multiple systems.
One of the newer programming languages is HTML 5 (Hyper Text Markup Language, version 5). That's the coding used to put content online. MediMatrix used this new language to successfully develop its own web browser so users can access images and patient files from any mobile device without creating and downloading separate apps.
Just as HTML5 is the markup language that encodes content for online viewing, XML (Extensible Markup Language) is the technology that actually sends it over the Internet. MediMatrix used this technology to improve the information exchange among its providers and their facilities, making it more efficient and secure.
For more information or to learn more about how MediMatrix is solving multiple problems with its ability to speak multiple languages, visit MediMatrix.