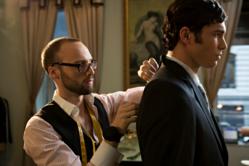 Our more than 100 years experience in producing bespoke garments has us masterfully continuing the tradition which Saville Row started
Phoenix, AZ (PRWEB) February 20, 2013
The trend in buying fine custom clothing perfectly tailored to the individual has surged in the past 20 years. Since mass merchandising created products that fit consumers into a one-size-fits-all box, many consumers changed where they shop to express their unique personalities and taste through custom apparel.
In the world of custom clothing, there is no purer form than bespoke. Steve Wilson, owner of S.W. Wilson Bespoke & Custom Clothier, is proud to bring his personalized bespoke suit and bespoke shirt services to the U.S. cities of Los Angeles, San Francisco, San Diego, Palm Springs, Las Vegas, and Dallas, as well as the East Coast cities of New York and Philadelphia.
S.W. Wilson Bespoke & Custom Clothier is a family-operated business passed down through four generations. Established in 1911, the business grew by creating bespoke suits for clients in Ohio. When Wilson joined his father 43 years ago, he acquired the same knowledge that previous generations had learned about bespoke suits. While still maintaining business in Ohio, Wilson moved the headquarters to Phoenix, Arizona in 2008. Since the move, S.W. Wilson has gained notoriety in multiple Phoenix and Scottsdale media outlets, as well as on the Haute Living official blog.
The main distinguishing factor between S.W. Wilson and other clothiers is its customer-focused personalized service. While other clothiers compel customers to go into a store for measurements and fittings, Wilson comes directly to the client's home, office or other convenient location. He presents a wide range of the world's finest fabrics and takes a multitude of measurements, ensuring a perfect fit. The process of getting that perfect fit may require up to three separate fittings. Each suit also comes with the expertise and care of a fourth-generation bespoke clothier or other highly experienced clothier. Thus, an S.W. Wilson label signifies the concierge of clothing.
Clothiers have been hand-picked by Wilson to cover the areas of New York and Philadelphia. As always, bespoke suits will be crafted by only the best master tailors in the U.S. Even though the bespoke tradition began in London by Saville Row, Wilson asserts his opinion by saying, "A bespoke suit earns its name not only by its top-level construction but also the materials from the finest European mills that go into making it. Our more than 100 years experience in producing bespoke garments has us masterfully continuing the tradition which Saville Row started."
While S.W. Wilson will continue to keep Phoenix its headquarters, it is proud to now make available its top-level personalized service to other parts of the country so that they, too, may enjoy the advantages of receiving a truly bespoke clothing experience.
About S.W. Wilson Bespoke & Custom Clothier
S.W. Wilson Bespoke & Custom Clothing, one of the leading custom clothiers in Arizona, produces exquisite bespoke and custom apparel for men and ladies. Headquartered in Phoenix, Arizona, personalized bespoke services are also offered in the U.S. cities of Los Angeles, San Francisco, San Diego, Palm Springs, Las Vegas, and Dallas, as well as New York and Philadelphia. S.W. Wilson is comprised of master clothiers and tailors who work together to seamlessly take a person's measurements and tastes and craft it into a one-of-a-kind finished garment.