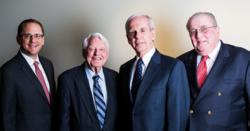 "During our careers, we have been partisan, but we also came together to forge landmark solutions to complex challenges. That's the difference our firm will make for our clients..."
-Congressman Tony Coelho
Los Angeles, CA (PRWEB) February 19, 2013
Vectis Strategies, LLC, a new bipartisan national public affairs and public relations firm, launched today as the amalgamation of political and business leaders from both sides of the aisle. Vectis is founded by two former prominent members of Congress: House Democratic Whip Tony Coelho and Republican House Appropriations Chairman on Energy & Water Ron Packard. The firm also includes former California Democratic Party Chairman Peter Kelly and Republican public relations executive David Herbst.
Headquartered in California, with offices in Los Angeles, Sacramento, San Diego and Washington, DC, Vectis Strategies will utilize its partners' deep and longtime bipartisan relationships that stretch from the corridors of power in Washington, DC to international agencies, state houses, city halls and newsrooms nationwide. The founders of Vectis Strategies have a proven and respected track record for historic accomplishments through bi-partisan collaboration. Vectis is the only firm with founders who have strong bipartisan ties within the California Congressional Delegation, the largest and most powerful in the United States.
"During our careers, we have been partisan, but we also came together to forge landmark solutions to complex challenges. That's the difference our firm will make for our clients—we can throw elbows, but more importantly, we know when and how to compromise and extend the handshake that gets the job done," said Coelho, the former Chairman of the Democratic Congressional Campaign Committee and author of the Americans with Disabilities Act.
Vectis is the Latin word for "leverage." The firm will specialize in public relations, government affairs on the federal, state and local levels as well as business development. Vectis will represent the interests of public and private corporations, entrepreneurial start-ups and non-profits, philanthropic foundations and local agencies.
Vectis Strategies key practice areas include Privacy/Cybersecurity, Municipal Infrastructure/Transportation, Environmental Initiatives and Media Relations. They are led by a talented veteran leadership team including: Don Polese (former Chief of Staff to Congressman Packard), Aram Nadjarian (former Senior Environmental Advisor to the California EPA under Governor Arnold Schwarzenegger), Dan Caprio (former Chief Privacy Officer and Deputy Assistant Secretary for Technology Policy at the U.S Department of Commerce under President George W. Bush) and Ron Demeter (former Senior Media Strategist for MWW and Capitol Hill journalist).
"The founders of Vectis Strategies are among the very best." said Alan Rothenberg, 2013 Chairman of the Board of the Los Angeles Area Chamber of Commerce and Chairman & CEO of 1st Century Bank. "I have known and worked with them as individuals and seen firsthand their respective talents—collectively, they are a true powerhouse. I would want them in my corner."
For more information please go to http://www.vectisstrategies.com .
ABOUT THE FOUNDERS:
The Honorable Tony Coelho (D-Modesto, CA) brings a national reputation as one of the top strategists of the Democratic Party, having served in the U.S. Congress as House Majority Whip (the third highest position in the House of Representatives), chairman of the Democratic Congressional Campaign Committee and general chairman of Al Gore's presidential campaign.
David A. Herbst is a public relations veteran, having been a senior executive of one of the Nation's "Top 10" PR firms. Through June, Herbst will be continuing in his role as Chief Corporate Officer of Mercury Air Group, Inc., a worldwide aviation services company. He has served as both a City of Los Angeles Commissioner and as a Los Angeles County Commissioner as well as president of two chambers of commerce in LA County. In 2008 he was a member of the California Delegation to the Republican National Convention in support of Senator John McCain.
Peter D. Kelly III, Esq., is a respected attorney, lecturer and commentator who is a distinguished member of the Democratic Party. Kelly followed Nancy Pelosi as Chairman of the California Democratic Party and he also served as the Party's Finance Director and Chief of Staff in California plus in many national leadership roles within the Democratic National Committee.
The Honorable Ron Packard (R-Carlsbad, CA), has the distinction of winning election to Congress as one of only three write-in candidates in the Nation's history. During his 18 years in the House of Representatives he served on the powerful Committee on Appropriations and was Chairman of the Appropriations Committee on Energy and Water.
ADDITIONAL QUOTES:
"At this crucial moment in our Nation's history, we wanted to offer a unique value proposition to help move the needle of public opinion through the power of bipartisanship. Unlike other firms that favor one political party, our founders are evenly split 'red' and 'blue.' We have the proven track record of creating real results by reaching across the aisle and solving problems head-on," said Kelly, the former Chairman of the California Democratic Party.
"Politics teaches you how to handle the tough questions and how to face intense scrutiny," said Packard, who was one of only three candidates in the history of the House of Representatives to win their seat as a write-in candidate, adding, "Whether it's crafting a win in the regulatory or legislative arena or helping a company overcome negative publicity and chart a new course, our partners have been there and done that."
"Nearly every issue is "political" to one degree or another--from launching a new business segment, combating a media crisis, securing entitlement approvals or dealing with environmental regulations or the policy decisions behind cybersecurity. We have assembled a team that has an unmatched depth of experience in the hot button issues CEOs face every day," said Herbst, a former senior executive of one of the Nation's "Top 10" PR firms.