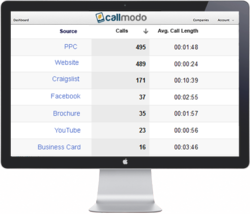 By giving advertisers highly detailed information about their callers, even down to their social network profiles, we're delivering unprecedented lead data that will enable them to better handle, communicate with, and close those leads
San Luis Obispo, CA (PRWEB) February 19, 2013
Entrepreneurs and business owners who advertise using multiple different channels now have access to unprecedented marketing and lead insights with the new CallModo software. By assigning a unique phone number to each promotional channel, whether print, online, radio, or television, advertisers can track where and who every lead call comes from.
One of the cutting edge benefits the service offers is their "Enhanced Caller Info" feature, which automatically pulls in additional contact information about each caller, including name, email, physical address, company, and social networks.
"By giving advertisers highly detailed information about their callers, even down to their social network profiles, we're delivering unprecedented lead data that will enable them to better handle, communicate with, and close those leads" said Misty Lackie, CEO.
Using the online dashboard, users can set up call tracking numbers for each of their advertising sources. When calls are received to the numbers, CallModo tracks where and who the call is coming from enabling the user to see which channels generate the most leads. Detailed reports give users a breakdown of calls received by source, calls received in a specified date range, and callers' contact information. With built-in CRM capabilities, the software also transfers each caller to a unique contact record that can be accessed and exported as needed.
About CallModo
CallModo.com, owned by Go Smart Solutions, LLC, provides progressive call tracking software for businesses. Among its many features, the service offers tracking phone numbers, socially enhanced lead contact data, simple CRM capabilities and detailed call analytics. For more information, please visit http://www.callmodo.com/.