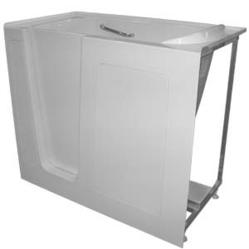 We are excited and proud to now offer walk in bathtubs and roll in shower stalls that are made in the U.S.A.
Denver, CO (PRWEB) February 19, 2013
Aging Safely Baths, a leading provider of walk in bathtubs, transfer bathtubs and roll in shower stalls announces they will now be offering senior bathtubs and handicap shower systems that are manufactured in the United States.
Walk in bathtubs are incredibly popular for senior citizens and the elderly, because they can potentially provide a sense of independence and security when bathing. When mobility becomes a challenge, typically the bathroom is one of the more hazardous areas that can especially be problematic for people with limited mobility.
According to Aging Safely Baths, they will be offering senior bathtubs that are made locally in an effort to increase quality control and ensure the highest quality standards are met. There are hundreds of walk in bathtubs on the market today, although not all models are going to have the same standards of quality. On the surface they will look very similar, however, upon closer evaluation, one can find senior bathtubs and roll in shower stalls that have inconsistent thicknesses of shells, which can potentially contribute to a walk in tub that leaks or bows.
Likewise, roll in shower stall systems that have inferior molding designs can potentially warp and have a short lifespan. Aging Safely is an organization that is focused on quality and only supplies brands and products that have warranties and guarantees that help add assurance to the customer.
The company will also be offering senior bathtubs with hydrotherapy that are made locally as well. The elderly can potentially benefit from walk in bathtubs with hydrotherapy. This natural water based homeopathic approach to wellbeing may potentially benefit those with body aches, poor blood circulation and a number of other ailments.
Having a product that is made in the U.S.A. is important to many people. Not only for the purposes of quality control when it comes to building walk in bathtubs and roll in shower systems, but also for knowing service and parts are local as well. Local customer service representatives can provide additional confidence as well when making a major purchase such as this.
Aging in place is a relatively new concept as more and more aging individuals seek out technologies that can assist in aging in home more safely and easily. While walk in bathtubs haven't changed a tremendous amount over the years, there have been substantial improvements to the overall designs. Lifetime no leak door seal warranties now come standard and provide additional peace of mind when making this type of purchase.
Aging Safely supplies senior bathtubs and roll in shower systems nationally and to Canada. The company also specializes in hydrotherapy, safety grab bar systems, transfer bathtubs and wheelchair accessible showers. Additionally they offer no cost, nonobligatory consultations to help guide customers into selecting walk in bathtubs that are right for shoppers' specific and unique needs.
Contact Information:
Zachary Wennstedt
Toll Free 1-888-779-BATH(2284)
info(at)agingsafelybaths(dot)com