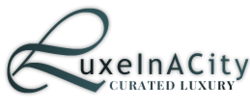 The Hanh Collection is a brilliant example of how one inspired artist can change the way we see fashion accessories
MONTREAL, CANADA (PRWEB) February 19, 2013
LuxeInACity, a luxury magazine that curates boutique luxury brands from around the world, and Hanh Tran, celebrated Houstonian artist known for her bold thick strokes, are giving away an original hand-painted pink evening clutch from The Hanh Collection to one lucky social media fan.
Fans of LuxeInACity and Hanh Tran are invited to interact with both brands using Facebook, Twitter and Pinterest for a chance to win this little pink evening bag. Fans simply need to use the widget on LuxeInACity's luxury blog to participate in this exclusive giveaway. Fans may choose to follow @luxeinacity, Like Hanh Tran, and pin the evening clutch on Pinterest for 11 entry points in the giveaway. They may prefer to Like LuxeInACity, Like Hanh Tran, tweet about the giveaway, follow @LuxeInACity for a combined 16 entry points. The more fans are socially active, the more chances they have of winning this artsy evening bag.
About the Prize: Valued at US$250, this pink evening clutch is the perfect accessory to jazz up a little black dress or a nice pair of blue jeans worn with an artsy t-shirt. Hand-painted by Hanh Tran herself, the evening clutch is embellished by a series of thick pink brushstrokes that are reminiscent of Hanh's abstract and postmodern impressionist pieces. Each stroke gives the bag a three-dimensional effect, making it truly unique.
Hanh started designing her hand-bag collection back in 2011 when she simply couldn't find an evening bag she loved in stores. Being an artist with a creative spirit, Hanh took to the brush and started painting one for herself.
"The Hanh Collection is a brilliant example of how one inspired artist can change the way we see fashion accessories," commented Roxanne Genier, president and co-founder of LuxeInACity.com. "True luxury is defined by the care and attention given by gifted artisans who go out of their way to create something beautifully unique."
To learn more about Hanh Tran as an acclaimed Houstonian artist, visit http://www.hanhgallery.com and to browse her collection of hand-painted purses, evening clutches, wallets and cosmetics cases, visit http://www.thehanhcollection.com.
This exclusive giveaway will run from February 19th through March 3rd at 12pm EST. A winner will be announced at random in the following week once we have confirmed their details. Participant may be located internationally but must be over 18 year old to participate. They are encouraged to increase their odds of winner by engaging in more than one social way.
Visit http://www.luxeinacity.com/blog/pin-tweet-of-like-to-win-an-evening-clutch-by-hanh-tran/ for the complete giveaway details and to participate.
Loving art and loving fashion just got easier. Get social to win on LuxeInACity.com.
About The Hanh Collection
Launched in 2011, The Hanh Collection are uniquely hand-painted purses, evening clutches, wallets and cosmetics cases designed by acclaimed Houstonian artist Hanh Tran. Inspired by her abstract and postmodern impressionist pieces, the collection is a true reflection of Hanh's creative spirit.
About LuxeInACity.com
Launched in 2011, LuxeInACity aims to curate the world, one boutique luxury brand at a time. These luxury brands are locally known as the best in their fields but don't yet have international recognition. LuxeInACity aims to help them reach international travelers & consumers wherever their next trip or luxury purchase takes them.