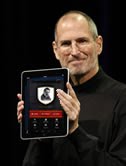 The Newest Way to Access the Oldest Book
New York, NY (PRWEB) February 20, 2013
The newest way to access the oldest book was achieved by taking advantage of technology, the King James Bible and coupling it with the voice of Alexander Scourby. The Scourby Audio Bible app has become the newest way to access the oldest book. What makes this Bible app really special is the voice of Alexander Scourby, who the Chicago Tribune wrote as having the greatest voices ever recorded.
The advent of the Apple and Android devices and application software to run on them, known simply as APPS, has changed the way people access all sort of information. One of the apps that run on smartphone and mobile devices is the Scourby Audio Bible app developed by Litchfield Associates.
Together with modern ways of reading, using Amazon's kindle fire and the Nook tablet, Scourby Bible App engages the users of these devices in a modern way that is capable of maintaining the attention levels at a very high level while at the same time increases the retention ability for all the Bible verses heard.
The Audio Bible app is designed to give uses the maximum benefits from this new technology. The app synchronize the voice of Alexander Scourby with the text of the KJV Bible, with the verse being read highlighted in yellow. This all new way of accessing the Bible allows the user to focus on the meaning of the message in the verse being read to them by Alexander Scourby. This simply technique increases understanding and comprehension, while making Bible study more interesting and productive.
Users are able to plan Bible study using the bookmarking feature, creating playlists of favorite scripture verses to play back laterl and even at bedtime. These are features inconceivable just a few short years ago and impossible to achieve without this new recent technology.
Sometimes during the presentation, there may be the requirement to pull out a verse that may not have necessarily been in the schedule, this can be easily done using the search feature that looks for words, phrases or even books and verses, saving time and improving the spontaneity of the session.
The Audio Bible App is highly recommended for Bible Study, religious presentations and sermons, which, according to Litchfield associates, is proven to improve the listener Bible Study experience and encourages more participation in the presentation.
Litchfield Associates, are the owners and developers of the Scourby Audio Bible App and the Bible Mp3 download. They were developed to enhance the users Bible study experience though Bimodal Presentation and has been rated number one by Android and Apple users.
Visit Scourby.com for more information on how your Bible Study experience can be enhanced. Take an app tour and listen to Alexander Scourby read selected Bible passages. Begin to enjoy the many beneficial features of the Scourby Bible Apps and the newest way to access the oldest book.