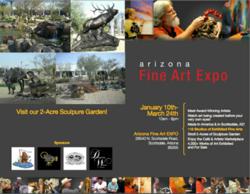 Scottsdale. AZ (PRWEB) February 19, 2013
The Arizona Fine Art Expo has more than 4000 works of art on display and for sale, as well as more than 100 artists' studios to visit which might call for a second bowl of Baskin-Robbins ice cream!
The gauntlet has been thrown by the local Baskin-Robbins stores with an Ice Sculpting Quick Draw, and the Arizona FIne Art Expo artists' have picked up the challenge. Several artists will participate in sculpting frozen ice with a time limit of 30 minutes before the melting begins!
Delicious samples and everyone's favorite flavors will be available for purchase, with Baskin-Robbins local stores donating 15% of the proceeds to the veteran charity, American Healing Arts Foundation (AHAF) as well as raffling an entire tub of ice cream for a $5.00 donation. The winner gets to choose their favorite flavor!
The Arizona Fine Art Expo sponsors classes provided by The American Healing Arts Foundation for veterans and US serving military, with all art supplies and teachers time kindly donated. Post-traumatic stress disorder remains high for both wounded and uninjured soldiers-plus the suicide and divorce rate continues to soar. Art is proven to be a great form of therapy for victims. AHAF free classes are intended to reunite veterans with their fellow vets, away from hospitals and the battlefield, in a peaceful environment.
This event coincides with the Arizona Fine Art Expo Artists Book Signing Weekend which starts on Saturday February 23rd. Each work of art produced by an artist is a visual journal. The artists participating in the book signing event offer a variety of experiences in a varied selection of books, that include traveling across the USA for a year to healing the heart with poetry and art. They are written from the soul and worthy of any collector's bookshelf.
The Arizona Fine Art EXPO, a production of Thunderbird Artists, award-winning leading producer of fine art and wine festivals. This is an 10-week experience that combines the aspects of a juried fine art festival, the elements of a gallery and the inner-workings of an artist's studio. The result is a unique celebration of art that functions as an educational tool for art aficionados, art collectors, interior designers, developers, corporations, community leaders, galleries and novice art enthusiasts.
The Arizona Fine Art EXPO takes place at 26540 N. Scottsdale Road, on the southwest corner of Jomax and Scottsdale Roads, North Scottsdale. Season pass is $10.00, $8.00 for seniors and military. Children under 12 are free. Parking is free.
Call us 480-837-7163.
Visit us at http://www.arizonafineartexpo.com
Like us at http://www.facebook.com/AzExpo
Locate us at http://bit.ly/ZbCK09