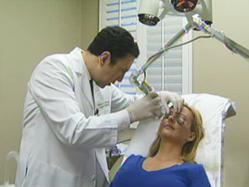 Los Angeles, California (PRWEB) February 19, 2013
During a recent show, Katie Couric interviewed a woman who suffered a serious injury from a dermal fillers procedure and the family of a woman who died while undergoing liposuction (go to: goo.gl/2eEdc). To Dr. Simon Ourian, Medical Director of Epione Beverly Hills, stories like these represent only the tip of the iceberg.
"Unfortunately many people don't realize the serious nature of the treatments offered at medi-spas until something goes wrong," says Dr. Ourian. "Some facilities permit untrained personnel to treat unsuspecting patients. In many cases there isn't even a physician on the premises."
According to Dr. Ourian, there are a few pertinent questions to ask about any medi-spa before you agree to undergo treatment. First and foremost, who will be performing the initial examination and treatment, and what are their credentials? In California, only a physician can legally examine and prescribe a course of treatment, even for minimally invasive treatments such as Botox or laser hair removal.
It is imperative one is fully informed prior to undergoing any procedure. In some states, including California, only a physician can provide informed consent. Ask about the things that can go wrong during or after the treatment. If one is not fully satisfied that consent is fully informed, one should find another facility.
Another excellent way to judge the quality of work performed at a medi-spa is to ask to see before and after photographs. Often, before and after photos are available on the facilities' website. If one can find photos of a client who has undergone a procedure in which one is interested, it may offer a realistic idea of the results that can be expected.
"I have seen an increase in the number of patients who come in from other medi-spas with everything from no improvement to unwanted side effects," says Dr. Ourian. "At Epione, all treatments are performed by me or by registered nurses that I have personally trained."
Dr. Ourian has been a pioneer in laser technology and non-invasive aesthetic procedures including Restylane, Juvéderm, Radiesse and Sculptra. These treatments are used for the correction or reversal of a variety of conditions such as acne, acne scars, skin discoloration, wrinkles, stretch marks, varicose veins, cellulite, and others. More information about medi-spa risks can be found on their website.