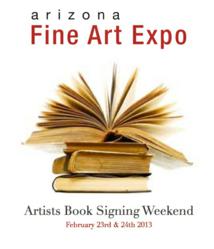 Scottsdale, AZ (PRWEB) February 20, 2013
Local Baskin Robbins stores will join the artists as special guests at Sunday's book signing, serving up their unique blend of flavors for patrons to enjoy from noon to 5:00pm. Artists participating in the book signing weekend include:
Jeanne Bonine - Inspirations of Timeless Beauty
One hundred and twenty-eight pages in a beautifully bound table top book presenting over seventy-five full color reproductions, prose, philosophy of the artist and her life calling.
Bob Coonts - Inside Out
This is a coffee table book with 145 color images and a foreword by the artist himself. It includes many of Bob's beautiful full color paintings and sculptures with information about each. It has a history of the artist and insight into why and how the artwork came to be.
Christine Hauber - Working In The USA
The diversity on the pages of Working in the USA makes it an important contribution to the country's history. Each photograph is a snapshot in time, a time when job opportunity and freedom of choice are as obvious to workers as the color of the sky. Hauber's randomly selected subjects rarely complained about their occupations. They often expressed a belief that lack of desire and hope spells employment failure, but effort, persistence, and a focus on goals can take anyone in the United States where they want to go.
Sandi Ciaramitaro - Cook With Love & Paint With Passion!
Arizona artist Sandi Ciaramitaro escorts you on an artistic and culinary adventure to explore why she "Cooks with Love and Paints with Passion"! After many years of being asked for her recipes, influenced by her Italian heritage dating back to the 15th century, she has finally put them together in book form. While filled with delicious combinations of flavor and sustenance, her art, seen in private, corporate and international collections, is not forgotten as she explains the differences between plein air and studio painting. Fill your family with mouthwatering food and an appetite for art! Mangiare!
Kelly Athena - How To Feel Good
It is a collection of 180 musings about being empowered and living one's life to the fullest.  The cover is taken from one of Kelly's paintings of three bright hearts floating up.  It also includes 15 "Play Pages" with exercises useful for self-discovery, book groups, or support groups.
The Arizona Fine Art EXPO, a production of Thunderbird Artists, award-winning leading producer of fine art and wine festivals. This is an 10-week experience that combines the aspects of a juried fine art festival, the elements of a gallery and the inner-workings of an artist's studio. The result is a unique celebration of art that functions as an educational tool for art aficionados, art collectors, interior designers, developers, corporations, community leaders, galleries and novice art enthusiasts.
The Arizona Fine Art EXPO takes place at 26540 N. Scottsdale Road, on the southwest corner of Lomax and Scottsdale Roads, North Scottsdale. Season pass is $10.00, $8.00 for seniors and military. Children under 12 are free. Parking is free.
Call us 480-837-7163.
Visit us at http://www.arizonafineartexpo.com
Like us at http://www.facebook.com/AzExpo
Locate us at http://bit.ly/ZbCK09