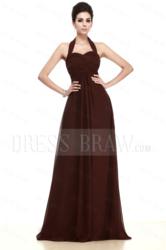 (PRWEB) February 20, 2013
Today, DressBraw.com, a leading online shop of wedding dresses and special-occasion dresses, is excited to launch a promotion of Evening Dresses 2013 collection. The discount is up to 75% off, and DressBraw.com hopes to help girls to save big for their dresses.
All the dresses in the Evening Dresses 2013 collection are created for an unforgettable evening. The emerging dress designers from DressBraw.com will make customers find themselves in exclusive high fashion dresses.
Edmond Liu, CEO of the company, said, "The promotion is for two weeks only, from today to Mar. 5, 2013. All the evening dresses come in different styles, lengths, and colors. No matter A-line one shoulder sleeveless evening dresses, or V-neck knee-length plus size evening dresses, you will find your dream dresses on our website."
"Evening dresses should be an attractive beginning of a party. Shop at DressBraw for a huge selection of evening dresses that celebrate your monumental event. You just need to check the clothes of different sizes and styles online, click the mouse and pay." Continued, Edmond Liu.
In addition, DressBraw.com has come up with discounts on other special-occasion dresses and fashion accessories (like shawls, gloves, lingerie, petticoats, and so on), which are popularly used at a party or a prom. DressBraw.com hopes to provide one-stop shopping experience for its customers.
About DressBraw.com
DressBraw.com is one of the leading suppliers of wedding & special-occasion dresses from China. All the dresses they are selling are made from top quality materials and go through rigorous inspection. They have an elite team with professional skills and unlimited creativity in dressmaking.
For more fashion dresses, please visit: http://www.dressbraw.com/?utm_source=content&utm_medium=news&utm_campaign=index