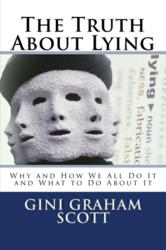 Despite the increased risk of being exposed in a lie today by the media, people keep lying, hoping they won't get caught.
San Francisco, California (PRWEB) February 19, 2013
Since lies today are so likely to be exposed by the media, in her latest Huffington Post column, Open Season on Liars, sociologist Gini Graham Scott explores the question of why people keep lying. Given the dangers of their lie being exposed nationally or internationally, why do people take the risk, Scott asks?
In her column, she first describes a lie by a masked robber who gave the waitress a sob story about how he resorted to crime to feed his wife and hungry kids, since he saw only $25 in the register, and she gave him a free pizza. But the robber was quickly unmasked and arrested after the police saw him on the store's video cam, and then his story when viral. Then, Scott cites the many other famous liars whose recent exposés quickly made international headlines. Among them was American Idol hopeful, Matt Farmer, who claimed that an injury from an IED explosion was supposed to make him sterile but then he had a miracle baby in order to increase his appeal with the American public and judges. But he was soon exposed by several other servicemen who were in Iraq with him, and the real truth is that he got removed from Iraq after he got drunk from taking an acne medication. Another recent case described in her column was that of Manti Te'o, who got taken in by a made-up girlfriend until the story went viral and the imposter confessed. And then also cited in her column is the well-known Lance Armstrong lie about not using doping to improve his cycling which went on for a decade, until he was exposed and his shame reverberated around the world.
So given the risk of exposure and the shame of being caught in a lie, why do people keep doing it? Scott suggests some reasons and then asks what we as a society should do about it, concluding that a recommitment to truth and honesty is needed, since trust is the foundation of a society.
Scott previously wrote extensively about the subject of lying in: The Truth about Lying. She has also created a short video documentary about how and why people lie inspired by the book called The Truth about Lying Video
Her next column deals with the way many people blindly follow their GPS devices into disaster, such as the Belgian woman who followed her GPS 900 miles south into Croatia instead of 90 miles north to a train station in Belgium. After that she will be writing about the many recent exposés about liars due to the ease of finding out information about anyone – and the curious fact that people continue to lie expecting to get away with it.
Given the success of these columns, Scott is putting together a book based on these and other commentaries to be written about current society. It's called Changing Society or Does Your Toothbrush Talk to You? and Other Commentaries on Everyday Life, and is a follow-up to her book The Very Next New Thing: Commentaries on the Latest Improvements that Will Be Changing Your Life.
Several dozen publishers and agents are reviewing the project, and the selected publisher will be announced in a few weeks.
The inspiration for the columns are drawn from Scott's experiences and observations, as well as from the latest news on the Internet, on TV, in news magazines, and in the daily paper.
Gini Graham Scott is the founder of Changemakers Publishing and Writing and the author of over 50 published books. She received a Ph.D. in Sociology from the University of California in Berkeley, a J.D. from the University of San Francisco Law School, and M.A.s in Anthropology, Mass Communications and Organizational/Consumer/Audience Behavior and Popular Culture and Lifestyles at California State University, East Bay. She is getting an additional MS in Recreation and Tourism in 2013 and wrote her final thesis on Finding Funds for Your Film or TV Project, which will be published by Hal Leonard, Limelight Editions, which published her previous book: The Complete Guide to Writing, Producing, and Directing a Low-Budget Short Film. She has spoken about the topics of her books to many groups and the media, including appearances on Good Morning America, Oprah, and CNN.