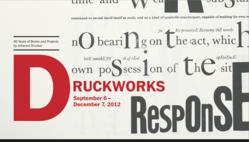 "Book artist extraordinaire Johanna Drucker, has done more than perhaps any other contemporary artist to increase the critical recognition of book as art form" Monica Westin
San Francisco, California (PRWEB) February 19, 2013
The San Francisco Center for the Book presents "Druckworks," a comprehensive survey of artworks by artist and scholar Johanna Drucker, featuring more than 60 books as well as graphic art and visual projects produced over the last 40 years. In addition to scholarly work, Drucker has produced more than two dozen artist books, many produced letterpress and using experimental typography. From deeply personal narratives, to humorous reflections and theoretically engaged poetics, Drucker's works have helped shape the field of artists' books, visual poetics, and digital aesthetics in dialogue with the arts and critical issues.
Drucker's career trajectory spans an important time—when she began making books in the early 1970s, the term "artist book" was not yet mainstream. Today, interest in "artist books" in their many popularized forms, from zines to fine press books, continues to reach new heights – attendance at the New York Art Book Fair in 2012 surpassed 20,000 people, drawing young artists, esteemed scholars and (seemingly) everyone in between.
The San Francisco Center for the Book offers over 300 workshops a year in the art of the book, from letterpress printing, hand bookbinding and related arts courses to exhibitions and public events – all to inspire a love of the book as an art form. SFCB is proud to host the west coast Druckworks exhibition, which has also traveled to the Center for Book and Paper Arts, Columbia College Chicago and Denison Museum in Granville, Ohio.
Druckworks will open at the San Francisco Center for the Book on Friday, May 24, 2013 with an opening reception from 6:30 to 8:30pm. The exhibition will run through August 24, 2013 at the San Francisco Center for the Book at 375 Rhode Island Street. All events are free and open to the public. Gallery hours are 10:00am – 5:00pm weekdays and 9:30 - 4:00 on Saturday.
About Artist Books
An artist book is a book created as an original work of art, rather than as a reproduction of pre-existing works (like an exhibition catalog or monograph). An artist utilizes the structure of the book as a means of expression through which to synthesize an idea, using textual and/or visual and/or physical means.
Sometimes an artist is responsible for crafting every single aspect of the book itself—from hand-making the paper and hand-setting the type, to binding its pages manually. Other times, an artist might create an artists' book inside an existing sketchbook or even using a copy machine—these are often called "zines." Today, many artist books are created entirely using digital means, such as InDesign software and published using "print on demand" technology.
Artist books are "zones of activity" that exist at the intersection of many different disciplines, fields and ideas. What makes an artist book an artist book lies within the strengths of its concept as related to its formal attributes.
About Johanna Drucker
Johanna Drucker has been making artist's books and other visual projects, such as drawings and videos, for the last 40 years. While her artistic output is nothing short of prolific, she is perhaps better known in the field of art as a scholar: among books about art history, modernism, graphic design, poetics and digital humanities, she also (and this is a pretty big deal!) wrote the first seminal history of the artist's book, The Century of Artists' Books, which was first published in 1994. Therefore, her identity as an artist, evolved alongside her career as a scholar—she was theorizing and creating discourse around the very thing it was that she was interested in making.
About the San Francisco Center for the Book
The San Francisco Center for the Book fosters the joy of books and bookmaking, the history, artistry, and continuing presence of books in our culture and enduring importance as a medium of self-expression. We provide both a home for Bay Area book artists and a place where the wider community can discover book arts. Everyone is welcome here, experienced practitioners and newcomers alike. Over 300 workshops annually offer learning at all levels: from introductory to focused advanced courses spanning traditional bookbinding, cutting-edge printing techniques and experimental book forms. Exhibitions are designed to inform and inspire visitors. Free public programs include opening receptions for the exhibition program, poetry readings, book release parties for our publications, gallery talks, Open Houses and other community events like the annual Earth Day Extravaganza and Roadworks Street Fair.