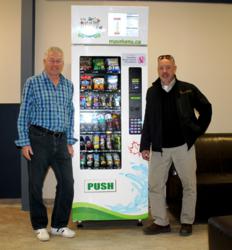 The Max! vending machine, with healthy snacks and beverages, along with flexible payment options, was a perfect fit for us.

Dennis Lupien, The Canadian Dance Company
(PRWEB) February 20, 2013
Oakville resident Drew Smith found Max! Canadian Healthy Vending machines online after noticing the lack of healthy snack choices in his local arena and community centre vending machines. His two boys play competitive hockey, and like any athletes, need nutritious snacks to give them energy. Drew recognized a change to more health-conscious options was required in vending machines, whether located in community sports centres, fitness facilities, schools or businesses.
Twenty-five years in the newspaper distribution business meant handling vending boxes came like second nature to Drew. He wanted a way to leverage those skills and make a positive difference in his community. The Max! Canadian Healthy Vending machine program was the answer. "The reaction has been unbelievable, people tell me all the time how excited they are to finally have healthy options to choose from."
The Oakville Gymnastics Club, a large training facility with over a dozen top coaches on staff, has a Max! Canadian Healthy Vending machine. Wayne Hussey, Chief Operating Officer, has this to say about it: "Members had requested healthy options. Providing healthy vending for our members and guests complemented our programs of physical fitness and gymnastics."
Another of Drew's locations is The Canadian Dance Company also of Oakville. With 10,000 square feet of studio space, it's one of the most successful dance studios in North America. Dennis Lupien, in Studio Operations, notes "Having healthy vending options for our students to help refuel them after a class or rehearsal was important to us. The Max! vending machine, with healthy snacks and beverages, along with flexible payment options, was a perfect fit for us."
Drew started Healthy Fresh Ontario Vending and is pleased to be able to offer his fellow residents a more health-conscious alternative to the old standard junk food vending machines. Plus, he says, commenting on some of the more advanced features of the Max! machines like the cashless payment system option and the interactive LCD display, "They love the uniqueness of the vending machine with all the cutting edge features."
About Canadian Healthy Vending
Canadian Healthy Vending is a Vancouver-based vending equipment manufacturer and distributor with over 23 years experience in the Canadian vending industry and is the manufacturer of the Max! Healthy Vending Machine. Our Mission is to get healthy snacks and nutritious drinks into the hands of Canadian workers and students in every city and province across the country. The state of the art Max! Healthy Vending Machine features both cash and cashless payment systems in addition to a high resolution display monitor, which provides nutritional information on product offerings, and information on community health initiatives. To get more information about Canadian Healthy Vending or to get a Max! Healthy Vending Machine at your workplace visit our web site.