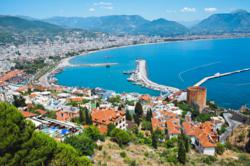 Alanya, Antalya, Turkey (PRWEB) February 21, 2013
Alanya is one of the most visited touristic landmarks of Turkey. An exotic destination, it is situated along the Mediterranean coast, which is enough for many people to write down this name on their must-see lists. Those looking for Alanya hotels in Turkey can now rejoice, because the summer holiday has just gotten better with the new summer hotel deals from Otel.com.
Otel has recently released a new list of hotel and accommodation deals for those interested in booking a hotel during the spring and even summer seasons. Among these, the Alanya hotels are probably among the best deals: an exotic destination, perfect for mind and body relaxation, at highly affordable prices. These are the key ingredients which make a holiday the best holiday, as says Otel's spokesperson.
'The hotels in Alanya which benefit of our discounts', says Otel contact person Senol Uysal, 'are Alayie Kleopatra hotel, Blue Sky Hotels and Suites and Gold Hotel Antalya. These are among our top rated hotels in Antalya and we are very proud to be able to display them at affordable fees'.
The three hotels from Alanya are situated close to the city's centre, but they are also fairly close to the beach. Tourists can benefit from a wide range of services within the hotels, including blue-water pools, playgrounds for children and even hot saunas or bicycle storage.
For example, those interested in booking a room at Blue Sky Hotels and Suites should know that the hotel is only three kilometres away from the city's centre, but at the same time, Alanya beach is close by. Tourists can also enjoy a day at the Alanya Archaeology Museum or go shopping at the Shopping Centre. "The four star hotel will rise to the requirements of even our pickiest customers. We are proud we have managed to offer accommodation in Alanya at affordable prices even for these elite hotels", says CEO of Otel.com.
Another great accommodation facility from Alanya is the Gold Hotel Antalya. "Just like Blue Sky", says Otel.com CEO, "this hotel is very close to the city centre, but we encourage tourists to enjoy their holidays at their fullest by visiting the close-by beach and other touristic historical attractions".
About Otel.com
Otel is part of Met Global, a worldwide tourism company that offers the best prices on hotel bookings from all around the world. Met Global uses their vast inventory of travel products to supply travel agencies, tour operators and other travel businesses and also to power B2C & B2B websites.
Otel runs under to motto 'Book the perfect stay, pay the lowest price!' – therefore, the company is consistently offering best deals on hotels from various countries and continents. This month, they provide Hong Kong hotel deals and discounts on Madrid and Paris hotels.
To find out more about the company and their monthly discounts, visit their official website at http://www.otel.com/. The website is available in 21 languages, including English, Romanian, Spanish, French, and so on.