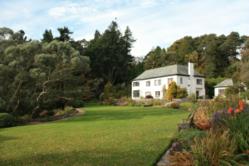 From expansive estates to small properties, any garden can be transformed into an attractive and productive environment
East-Sussex (PRWEB UK) 20 February 2013
Late winter represents the ideal time to engage in comprehensive garden design and restructuring. The environmental conditions leave trees dormant, so it is easy to see the existing structure of the garden, also creating an ideal time for transplanting. Correct design is immensely satisfying and effective. From expansive botanic gardens on public estates to small properties with space at a premium, any garden can be transformed into an attractive and productive environment.
Yet designing a garden is by no means a simple task. Whether engaged in renovating a neglected property or building new structures from scratch considering the design in advance can achieve better results. In the interests of supporting their customers, English Woodlands have released an advice series on planning and preparing for their own programme of design.
The online series covers a variety of topics, from helping decide on a garden's intended function and aesthetics, to hiring professional designers. Customers can find out what the professional design process entails, and how to initially start it off. The series includes advice on the ideal techniques and specimens for screening, along with optimising the maintenance requirements of a new garden.
A representative from English Woodlands was available to comment on their new series, and the reasoning behind it. "Many of our customers employ garden designers to help them achieve what they want from a garden, and it's useful for them to consider the objectives they wish to achieve. Other customers may want to redesign areas of their garden themselves. We often discuss elements of garden design with customers on the nursery, and we hope that by making this information available on our website via article and blogs it will become even more accessible."
The current advice series is just one of many guides English Woodlands have recently released, covering an extensive range of topics and categories. As part of their on-going customer service campaign the company has been attempting to transform their site into a reliable resource for curious customers, regardless of their level of experience. Their recent work has covered temporary storage of winter plants, specific planting and maintenance guides for their various specimen and irrigation systems, and most recently, guidance on garden design.
English Woodlands are an East-Sussex based tree nursery, supplying trees, plants, and planting accessories to consumers and landscapers across the country. They've been operating since 1919, and a comprehensive resource of on-line documentation represents the next step in a history of supporting their customers throughout the buying and planting process.