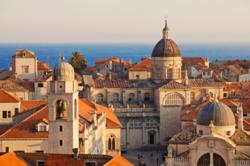 Dubrovnik, Croatia (PRWEB) February 21, 2013
Dubrovnik is one of the busiest cities of Croatia. Every year the town is taken as if by surprise by waves of tourists who are eager to discover the city's ancient secrets and historical heritage. This is why many people book Dubrovnik hotels even 6 months in advance.
"Holidays in Dubrovnik have the potential to turn a grumpy person into an amazed and enchanted one in less than 10 minutes – I know it, I've been there and done that. But finding a hotel in Dubrovnik only two weeks before your departure will be, well, not a challenge, but a 'Mission Impossible'", says Otel.com CEO Metin Altun.
As a result, the Otel CEO explains the company's choice to offer discounts on Croatia Dubrovnik hotels during this time of the year. As he says, now is the best time to book a room because the prices are not yet that peppered and the tourism companies can still get their clients great deals on accommodation. "Come next month and we may have to charge you double', he says, 'not because we want so, but because prices change. You cannot book a hotel two weeks in advance and expect to get the same price as if you had booked it five or even six months before".
Croatia is a wonderful country situated along the Mediterranean shore, Adriatic sea; it communicates with Italy by sea, and therefore it is a great destination for those who want to visit two countries in a single trip. What is more, the city of Dubrovnik is known to be among the most beautiful destinations in Europe. The unique Dalmatian coast (Mediterranean's unique seacoast) offers breathtakingly clear blue waters; overall, tourists will not regret booking Dubrovnik Croatia hotels during this time of the year.
Among the hotels promoted this season on Otel are the Excelsior Hotel and Spa, Grand Hotel Park Spa and Palace Hotel.
About Otel.com
The website belongs to the international tourism company Met Global. Its main focus is centred around the user and/or visitor, as the website's programmers and designers made it possible for people all around the globe to access and book hotels from anywhere in the world.
For example, the website is available in more than 15 languages, among which English, Spanish, French, Hungarian, Portuguese and even Romanian are put at the visitors' disposal. What is more, Otel helps its visitors navigate easier through the website's pages and make an idea about the exact sum they will have to pay: the prices are available in as many currencies as there are languages.
For more information about the latest discounts and offers on hotels all around the world, those interested can access the company's official website, http://www.otel.com/.